Topics: Breast Cancer
October 13, 2022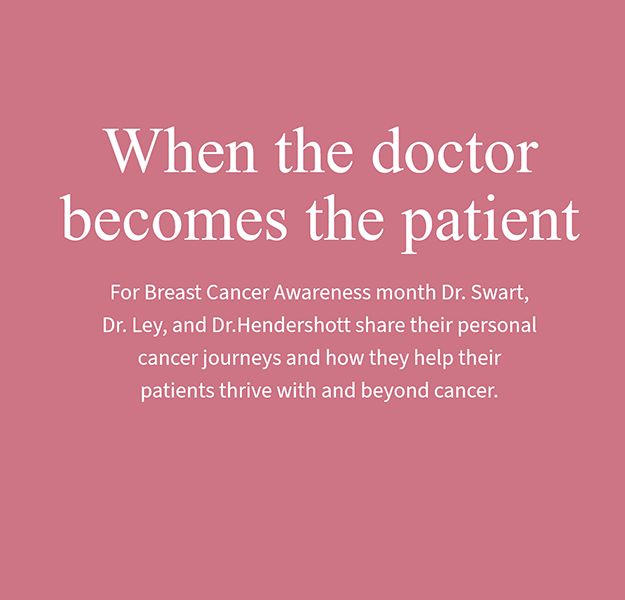 When the Doctor Becomes the Patient: three Arizona Oncology doctors talk about what it's like to receive a breast cancer diagnosis when you're an oncologist
It's Breast Cancer Awareness Month, and there's no better way to show breast cancer survivors that they're not alone than to share stories from others who have walked a similar path. For us, this includes three of our doctors, breast surgeon Dr. Michele Ley, breast surgeon Dr. Karen Hendershott, and medical oncologist and hematologist Dr. Rachel Swart.
These doctors have experienced both sides of breast cancer—treating it as well as receiving treatment for it. This October, they share how their experience has aided their goal of helping patients to "thrive with and beyond cancer."
Michele Ley, MD, FACS, Breast Cancer Surgeon
Dr. Ley, a breast surgical oncologist at Arizona Oncology, knew she had a family history of breast cancer—her aunt on her mother's side had been diagnosed at 44. She thought she felt a lump before a routine screening, and the cancer was found on a follow-up MRI.
Dr. Ley, who has been using minimally invasive and oncoplastic techniques to maximize outcomes for Arizona Oncology breast cancer patients in Tucson since 2006, admits that doctors feel anxiety, too, when they receive a cancer diagnosis. "We really have all the same emotions that our patients do, but we have to manage them in a different way," she says.
Dr. Ley says she helps women thrive and move past their cancer by giving them all their options and helping them decide for themselves which treatments they want to undertake.
"One of the key areas in which Arizona Oncology stands out from other oncology providers is that our physicians care intensely about the wellbeing of their patients. We care about the entire patient, not just their cancer, and helping them return to a meaningful life after their cancer treatment is finished," she says.
Karen J. Hendershott, MD, FACS, Breast Cancer Surgeon
Dr. Hendershott was the single mom of a ten-year-old son when she was diagnosed with breast cancer six years ago. She had to balance her new reality with the challenges she already had in her life. Because of this, she can easily identify with how her patients feel.
"You get a cancer diagnosis and you feel like you should get this free pass where none of the other challenges in your life are supposed to be there. Everything else is supposed to be smooth sailing. But for myself and for many of the people I encounter in the office, that's not the case," Dr. Hendershott says.
Dr. Hendershott practices out of Silverbell, Green Valley, and Oro Valley. In addition to her advanced training in cosmetic outcomes, she says one of the things she does differently as a surgeon is to spend a lot of time talking to patients about how to manage their emotions and anxiety around having cancer. She's grateful for the extensive support system Arizona Oncology offers to patients through our social work department, nurse navigators and more: "Arizona Oncology focuses on the quality of life of the patients. What do we need to do to support you? To lift you up during this time when you need this extra hand?"
Rachel Swart, MD, PhD, Medical Oncologist and Hematologist
Dr. Swart's breast cancer diagnosis, the most recent of the three, was not for one but for three different breast cancers. She had two tumors on the left side and one on the right side. Dr. Ley was her surgeon.
"Before, I was the person providing care for patients and trying to get my breast cancer patients through their journey. Now, I completely understand their journey," Dr. Swart says.
Dr. Swart leads the Tucson division's breast cancer clinical trials program and is a passionate patient advocate. She wants her patients to know that they can talk to her about any part of their breast cancer journey, and she'll be there to provide them treatment and support for as long as they need it.
Her patients motivate her to keep pushing forward in her work and her journey. "Life is a beautiful thing that we should all embrace, and there are many things for us to do here, and that is why we continue to thrive," Dr. Swart adds.