Talk to one of our cancer care specialists at a location near you.
REQUEST AN APPOINTMENT ONLINE

Don't let breast cancer define you — because at Arizona Oncology we sure won't.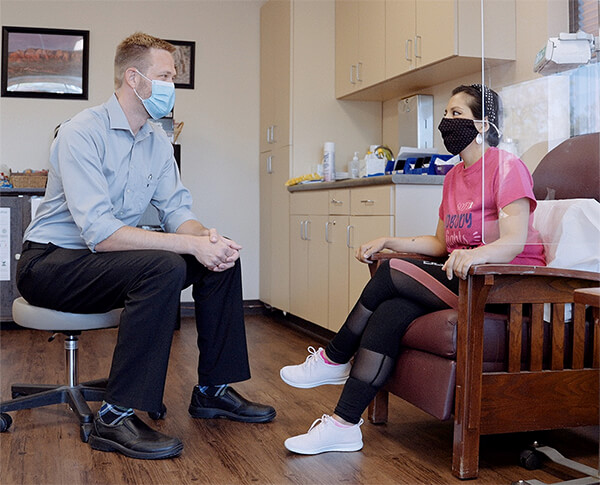 At Arizona Oncology, we believe no two breast cancer patients are alike.
Guided by an expert surgical team, we're with you every step of the way, developing a personalized plan with leading-edge technology and a holistic healing strategy. Our breast nurse navigator offers support throughout the treatment process, answering questions and coordinating your care.
We take pride in supporting patients and caregivers through their entire journey, collaborating with purpose to make a positive difference during a difficult time. Remember, you are the most important part of your treatment plan. So don't let breast cancer define you — because we sure won't.
---
ADVANCED TECHNOLOGY
Patients benefit from our team's dedication to discovering and delivering innovative treatments, technologies and techniques, including genetic testing and personalized care plans.
---
CLINICAL TRIALS FOR BREAST CANCER
We are committed to providing better care close to home, including access to clinical trials that allow patients to be among the first to benefit from breakthrough research and therapies.
---
A DEDICATED AND EXPERT CARE TEAM
Specialized teams of oncologists, researchers, and support staff deliver the highest quality care in the most compassionate way, from diagnosis to treatment and beyond.
---
GENETIC TESTING
For years, scientists have been searching for better ways to treat cancer. Advancements in genomics might just be a significant step toward getting there.
---
---
---
Stay up to date with the latest breast cancer
news and learn more about our
advanced cancer care.

Join Newsletter