Locations: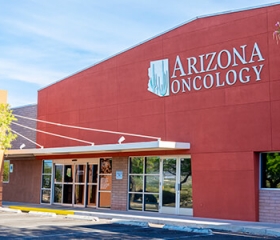 2070 W. Rudasill Rd., #130
Tucson, AZ 85704
View Map
Education & Credentials
College
Mount Saint Mary's College
Medical School
Northwestern University
Residency
University of Arizona
Fellowship
University of Arizona
Board Certification
Medical Oncology
Academic Honors & Professional Achievements
Director of Northwest Hospital, Tucson Cancer Committee
Assistant professor of internal medicine, University of Arizona
Vitals® Patients' Choice Award
Affiliations
American Society of Clinical Oncology
American Society of Hematology
American Association for Cancer Research
Department of Health and Human Services
Languages
English
In The Media
Biography
Dr. Swart earned her medical degree from Northwestern Feinberg School of Medicine in Chicago in 2003. She also earned a PhD in Tumor Cell Biology from Northwestern University in the combined MD/PhD program. She went on to complete both her residency in internal medicine and her fellowship in hematology and oncology at the University of Arizona. In 2006, Dr. Swart was appointed assistant professor in the section of Hematology/Oncology at the University of Arizona, where she focused on treating breast cancer and researching circulating tumor cells in breast cancer.
Dr. Swart joined Arizona Oncology in January of 2011. She treats a variety of malignancies in women with a specialty in breast cancer. She also directs the practice's high-risk breast cancer clinic. In 2016, she developed a survivorship program and clinic. Currently, she leads our Tucson division's breast cancer clinical trials program.
Philosophy
As both a physician leader and patient advocate, I am extremely passionate about helping patients and their families through the hardest battles of their lives – the fight against cancer. Inspired by my aunt's battle against ovarian cancer and my mother surviving breast cancer twice, I know how important it is to recognize patients' individualized needs. I understand that every patient is different. Every patient brings something to their situation that you have to understand – it's not just the disease, it's that person's values, experiences, and their perception. I believe by understanding this, it allows me to treat each patient as a whole. Instilling hope and guidance for my patients and their families is my passion, and it makes my career as a medical oncologist extremely rewarding and satisfying.
Personal
When I'm not providing direct care, I dedicate my time to causes and events that help raise funds to provide financial assistance to those who struggle in the fight against cancer. In addition, I enjoy staying active, cycling with my husband, and participating in Taekwondo.