DIAGNOSIS & TREATMENTS

Learn more about our clinical trials currently enrolling breast cancer patients.
CLINICAL TRIALS
Talk to one of our cancer care specialists at a location near you.
REQUEST AN APPOINTMENT ONLINE

How We Treat Cancer
At Arizona Oncology we don't just treat cancer, we understand cancer. More importantly, we understand what it takes to defeat cancer. And we're learning more every day with an expanded focus on clinical research trials, genomic testing, and immunotherapy. Our network of over 80 highly trained doctors have experience and success in medical, radiation, and surgical oncology techniques and practices. We also have the most ovarian cancer specialists in Arizona. So not matter what type of cancer you're facing, the expert physicians at Arizona Oncology can offer you a specialized and multidisciplinary team who's ready to walk this unwelcome journey with you.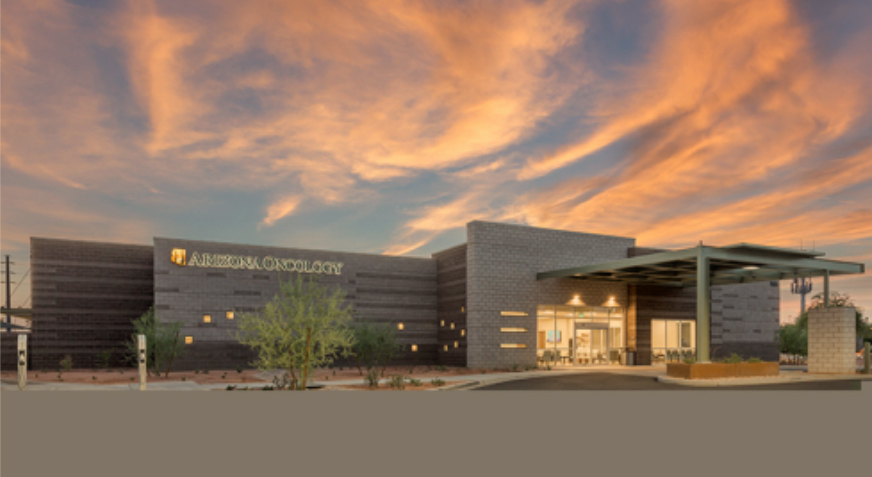 We don't just understand cancer from a medical standpoint. We understand the mental side of a cancer diagnosis as well. The range of emotions and despair that can creep in. Part of Arizona Oncology's comprehensive approach to cancer treatment is ensuring you have the support and resources to strengthen your resolve and address as many of your needs as possible for the path ahead. Whether it's nutrition guides, helping you understand the side effects of treatments such as hair loss, or any of the many questions that come up along the way, we are here to help.
We understand that location matters. Having a cancer care center that is not only comfortable but also close, is most patients' ideal form of treatment. Which is why Arizona Oncology has more locations across the state than any other cancer center. Plainly put, wherever you are, is where we are.
Finally, we understand that cancer is personal. We never lose focus of the fact that you are an individual going through one of the most difficult circumstances of your life. Our care is focused on you. No two cancers are alike and the same can be said for patients. At Arizona Oncology our cancer care is custom, comprehensive, and compassionate.
Arizona Oncology Education Center
When you or a loved one are faced with a cancer diagnosis you need the confidence and peace of mind in knowing you have made the best, and right decision for your care. We encourage you to learn as much as you can about your diagnosis and the options available to you. We have gathered all the most important research, clinical trials and treatment options and have made them accessible to you. Knowledge is power.
Areas of Research
BLADDER CANCER
Brain Cancer
Breast Cancer
Cervical Cancer
Colon / Rectal Cancer
Endometrial Cancer
Gynecologic Cancer
Head & Neck Cancer
Hypopharyngeal Cancer
Kidney Cancer
Laryngeal Cancer
Lip & Oral Cancer
Liver Cancer
Lung Cancer
Mesothelioma
Ovarian Cancer
Pancreatic Cancer
Prostate Cancer
Sarcoma
Skin Cancer & Melanoma
Testicular Cancer
Thyroid Cancer
Sign up to receive the latest research,
news and treatments in cancer.