Topics: Cancer Treatment
August 26, 2022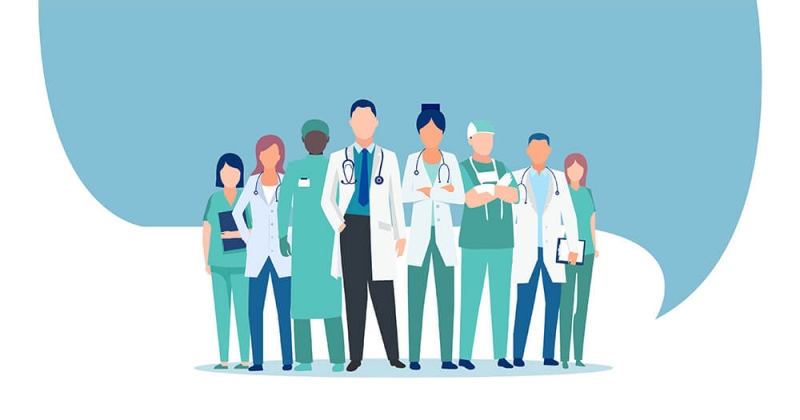 If you receive a cancer diagnosis, you expect to get care from an oncologist. But your oncologist is only one member of the team of specialists involved in treating cancer. At Arizona Oncology, we take a multidisciplinary approach to cancer treatment, but what does that actually mean? Let's take a closer look.
Multidisciplinary Care is the Highest Quality Care
Cancer care can be complex. Many doctors will likely be involved in your care. Without a multidisciplinary approach, there is a possibility for poor communication and poor coordination of care. When it comes to cancer, you want each of your doctors to be apprised of every test result, every change in your tumor status, every treatment option available. With a multidisciplinary approach, all members of your cancer care team meet regularly to discuss your case and make sure you are receiving the best, evidence-based care for your cancer.
Multidisciplinary care also gives you access to a full range of therapeutic options, including clinical trials and complementary therapies. Patients are included in their care discussions and receive timely information from their healthcare team. Studies show that multidisciplinary care leads not only to the best outcomes for patients, but that patients are more satisfied overall with their care experience.
"I believe in honest and effective communication with my patients and care providers. I realize that it takes a multidisciplinary team approach to take care of our patients with cancer. My care philosophy is that at the end of our discussion, my patients received and understood all the information given to them in regards to their diagnosis and prognosis, as well as therapeutic options available to them when deciding on a treatment. I also advocate my patients for participation in clinical trials whenever available as it allows for them to receive frontline drug therapies while contributing to research and knowledge to improve care in the future." - Aung Bajaj, MD, medical oncologist and hematologist
Benefits of Multidisciplinary Care
As a patient, what can you expect with a multidisciplinary approach to your cancer treatment?
● Better outcomes.
● Better access to information about your condition and treatment.
● Improved patient satisfaction.
● Improved treatment and quality care.
● Faster transition from diagnosis to treatment.
● Better adherence to clinical practice guidelines.
● More psychosocial support.
"I was just diagnosed with Stage IIIC Lung cancer a little under two months ago and actually came from my home in Prescott down to Tucson (where I will have to live for the next two to three months while receiving daily treatment) specifically to receive my primary cancer care and chemotherapy from Dr. Rosenburg (and radiation treatment from Dr. Gin, who is also amazing and I will review separately) and the staff at Arizona Oncology. I knew of Arizona Oncology and Dr. Rosenberg through family, but also from their incredible reputation from research myself and family did on the internet after I was diagnosed, and I have to say that both he and the entire staff at Arizona Oncology have been absolutely amazing so far. They cover every angle of what to expect, take their time, explain things thoroughly, and are compassionate, caring, optimistic and kind. They have truly given me the hope I badly needed to fight this disease and I would highly recommend them to anyone battling cancer." - patient of Dr. Rosenberg and Dr. Gin
The Doctors on Your Team
The individuals on your multidisciplinary cancer care team will vary depending on the type of cancer you have and your treatment plan. Doctors who treat cancer are referred to as oncologists, but you may have more than one type treating you. The following types of oncologists work together to coordinate and provide care for Arizona Oncology patients.
Medical oncologist. This is the physician who will likely serve as your primary oncologist. Medical oncologists oversee treatments involving medications like chemotherapy, biologic therapy, or targeted therapies. They also give supportive care and coordinate care with other doctors and clinical staff.
Hematologist. Hematologists specialize in blood cancers like leukemia and lymphoma. They also specialize in other disorders of the blood, bone marrow, and lymphatic systems. Most hematologists are also medical oncologists.
Radiation oncologist. If your treatment plan includes external or internal radiation therapy or stereotactic radiosurgery (SRS), it will be overseen by a radiation oncologist. These doctors specialize in using radiation to target and kill cancer cells.
Surgical oncologist. These surgeons specialize in performing biopsies, surgical removal of tumors, and other surgical procedures on cancer patients. A surgical oncologist may specialize in a particular area of the body, such as the breast surgical oncologists we have at Arizona Oncology and our colorectal surgical specialists.
Gynecologic oncologist. This type of oncologist focuses on cancers of the female reproductive organs, including ovarian cancer, uterine cancer, cervical cancer, vaginal cancer, and vulvar cancer. Gynecologic oncologists usually perform the surgery for these cancers as well as coordinate treatment with other oncologists as needed.
"I've been a patient of Dr. Hallum for over two years. The office staff and doctors are wonderful. They are always there for you when you need any help or to answer any questions that you may have. I really believe Dr. Hallum saved my life. Everyone in that office played an important part in the success of my treatment." - patient of Dr. Hallum
Other Care Specialists on Your Team
When you receive a cancer diagnosis, it's not only physicians you'll interact with. A number of other clinical specialists will be involved in your care.
Oncology nurse. Oncology nurses specialize in treating and caring for people with cancer. Your nurse will often be your first line of communication for concerns like symptoms and any side effects of your treatment. They will be able to give you tools to help alleviate discomfort as well as provide emotional support.
Radiation therapist. If you receive radiation therapy, a radiation therapist will work with your radiation oncologist to plan and administer radiation treatments.
Nurse practitioner. Oncology nurse practitioners (NPs) are advanced practice providers with additional education and training in the treatment of cancer. Seeing an NP is similar to seeing a doctor, in many cases. Many cancer patients develop a special relationship with their NP.
Physician assistant. Physician assistants (PAs) share many of the responsibilities of a medical doctor. They do not perform surgeries, but may examine, diagnose, and treat you in the same way a physician would.
Nurse navigator. These wonderful additions to a cancer care team help guide cancer patients through the complex healthcare system and assist with communication, appointment setting, insurance, financial and social support, and more.
Genetic counselor. Depending on the type of cancer you have or the type of cancer that runs in your family, it may be a good idea to have genetic testing done. Genetic counselors can help determine what kind of testing you should have as well as assist in interpreting the results of the testing.
Physical therapist. Physical therapists design and implement individual rehabilitation programs to build strength, reduce stress, regain independence, maintain energy, and improve overall quality of life for cancer patients.
Social worker. Our social workers are in place to help meet emotional and physical needs such as finding support groups, arranging transportation and housing, addressing financial concerns, organizing assistance at home, coordinating professionals for mental and emotional health counseling, assisting with advanced care planning, and more.
Registered dietician. Adequate nutrition and a healthy diet are key to healing. A registered dietician is available to our patients to help ensure that your nutritional needs are met before, during, and after cancer treatment.
In addition to your care professionals, so many other staff members are involved with your care, including front office and medical records staff, IT staff, financial counselors, and more. These individuals are all focused on making sure your experience is as positive and stress-free as it can be. "Focus on healing while we focus on you," isn't just a tagline for us—it's our mission.