Locations: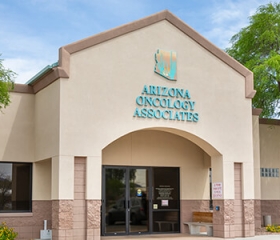 1620 W. St. Mary's Rd.
Tucson, AZ 85745
View Map
Education & Credentials
Medical School
Jawaharlal Nehru Medical College, India
Internship
Ochsner Clinic Foundation
Residency
Ochsner Clinic Foundation
Fellowship
Ochsner Clinic Foundation
Board Certification
Medical Oncology
Languages
English
In The Media
Biography
Dr. Sreekanth Vasireddy has been practicing medical oncology since 2010. His areas of research and interest include breast cancer and pancreatic cancer along with general medical oncology. He practiced with the Ochsner health system in Baton Rouge, Louisiana before moving to Tucson in 2019 to join Arizona Oncology. He provides comprehensive and personalized cancer care to his patients by working with an excellent multidisciplinary team. He works closely with the team of experts at Arizona Oncology to develop the best treatment plan individualized to each patient while incorporating all the relevant insights from the latest research findings.
Dr. Vasireddy previously served as the chairman of the pharmacy and therapeutics committee at Ochsner Hospital in Baton Rouge, Louisiana. A dedicated volunteer, he has taken an active part in community medicine outreach programs for medically underserved areas, HIV prevention awareness programs, breastfeeding awareness programs, and cancer screening and prevention programs over the years.
Philosophy
I strive to get to know my patients and their families so that I can provide them with a personalized care plan to treat their cancer which considers their individual preferences. I believe in close communication with my patients and the excellent multidisciplinary cancer care team at Arizona Oncology to provide the best possible care for my patients. I aim to keep up-to-date with all of the rapid advances in cancer care so that this can benefit my patients. I believe in empathetic and honest communication so that we can make the best decisions together to treat the disease.
Personal
A former high school field hockey player and medical school debate competitor, I currently enjoy all sports and the occasional debate. In my free time I love to spend time with my wife and daughter traveling and learning new things. Whenever I get a chance, I like to catch up on my reading, especially biographies and fiction books.