Locations: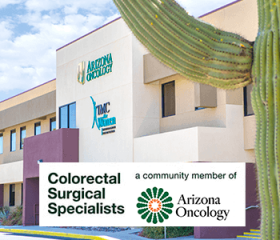 2625 N. Craycroft Rd., #200
Tucson, AZ 85712
View Map
Education & Credentials
College
University of Missouri
Board Certification
FNP-C and CRNFA
Languages
English
In The Media
Biography
Sarah Plummer, MSN, APRN, FNP-C, CRNFA, RN earned her Bachelor of Science in Nursing at the University of Missouri – Kansas City in Kansas City, MO before completing her Master of Science in Nursing in the Family Nurse Practitioner Program. She completed additional training to first assist in the operating room and in anorectal manometry testing. She is a board-certified FNP-C and CRNFA.
Sarah Plummer specializes in patients with a variety of colon issues, including surgical treatment of Inflammatory bowel disease, diverticulitis, anal fistula, anal fissures, anal dysplasia, hemorrhoids, pelvic floor disorders, fecal incontinence, and benign anorectal disease. She is currently a member of the American Academy of Nurse Practitioners.
Philosophy
The Colorectal Surgical Team at Arizona Oncology provides expert surgical care that is both comprehensive and compassionate. Our experienced surgeons treat a high-volume of patients, offering proven treatments that are evidence-based and streamlined, focused on better outcomes and low complication rates. At Colorectal Surgical Specialists, we are caring for our community by putting patients first – always.