Locations: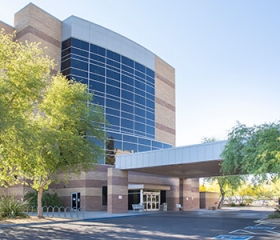 6567 E. Carondelet Dr., #185
Tucson, AZ 85710
View Map
Education & Credentials
College
University of Arizona
Medical School
Dartmouth
Internship
Banner Good Samaritan Medical Center
Residency
Georgetown University Hospital
Board Certification
Radiation Oncology
Languages
English
Biography
Dr. Frye specializes in radiation oncology with expertise in treating brain and spine tumors, as well as lung, gastrointestinal, and head and neck malignancies.
While studying for his undergraduate degree, he participated in a research fellowship at The University of Florence, Italy in neuropharmacology. He received his medical degree from Dartmouth Medical School.
Dr. Frye completed residency in the Department of Radiation Medicine at Georgetown University Hospital where he received specialized training in stereotactic radiosurgery and stereotactic body radiation therapy. He was also trained in using unsealed radiation sources. Following his residency, Dr. Frye was an attending radiation oncologist for the Duluth Clinic in Duluth, MN, where he served as the section chair and medical director of the region's first stereotactic radiosurgery program. He was then recruited to Georgetown University Hospital, where he served as a clinical instructor.
Currently, Dr. Frye serves as division chief of neuro-oncology at the Carondelet Neurological Institute. He is an active member of the American Society of Radiation Oncology.


Philosophy
He believes in patient-centered care, including a commitment to multidisciplinary collaboration with each patient's clinical team, which can be comprised of additional physicians, nurses, radiologic technicians, and medical physicists. This team approach is enhanced by thorough communication with his patients, their families, and the clinical care providers. He practices goal-oriented care, maximizing treatment results and minimizing side effects, with an aggressive approach to pain management.
Personal
In addition to his clinical work, Dr. Frye enjoys cycling, running, skiing, and traveling.