Topics: Cancer Treatment, Prostate Cancer
June 14, 2017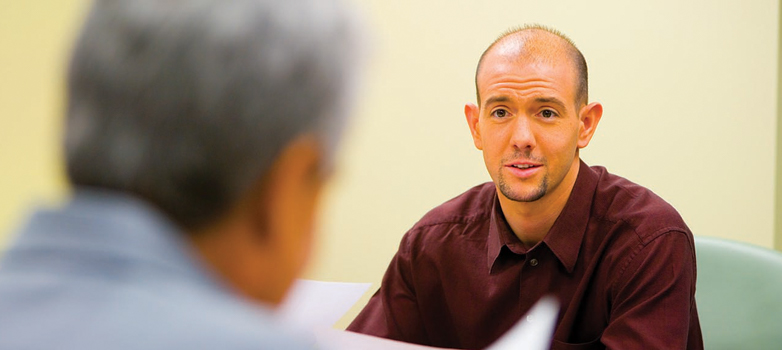 One in seven men will be diagnosed with prostate cancer, the most commonly diagnosed cancer in men excluding skin cancer. Men, aged 65 or older, have a family history of prostate cancer, a female relative with a BRCA positive breast cancer, or are African American, have a greater risk of being diagnosed. Though prostate cancer can be a serious and scary diagnosis, many men are not likely to die from prostate cancer.
Signs and Symptoms of Prostate Cancer
Prostate cancer in its early stages usually has no symptoms. As the cancer grows, men may have difficulty urinating, urinate more frequently, have blood in the urine, experience erectile dysfunction, complain of pain in the hips and back, and feel weakness or numbness in the legs. Many of these symptoms are more often attributed to other health issues. Read more about prostate cancer risks, signs, symptoms and screening.
Prostate Cancer Screening
Recommended guidelines for when men should have the prostate specific antigen (PSA) blood test, and if it's necessary to have a digital rectal exam (DRE), are not in agreement. One of Arizona Oncology's medical oncologist, explains "I recommend that for men with an average risk, a conversation occurs with his primary care provider that outlines the risks and benefits of screening at the age of 50. For those with a higher risk, screening may begin at age 40 or 45. Additionally, not every man needs to have a PSA annually or for the remainder of his life. Some scientific evidence indicates that the DRE may not even have value and many men find it uncomfortable and embarrassing. I believe the DRE, when consistently done with the PSA, has value in determining whether the prostate is enlarged or if a nodule has been detected."
Prostate Cancer Treatment Options
If, after a prostate cancer workup, a man is diagnosed with prostate cancer, treatment options need to be explored. There are three different specialists who may provide interventions: the urologist, the medical oncologist and the radiation oncologist. Treatment options can include observation, surgery, radiation, hormonal suppressive therapy and chemotherapy.
Medical oncologists provide a unique consultative role when men are diagnosed with early disease. Often men are faced with choosing between surgery or radiation at this stage. The oncologist provides unbiased insights that can assist the man in making a decision that supports his quality of life. The oncologist has a more direct role when the patient is diagnosed with more advanced or aggressive disease. Treatment options then include hormonal suppressive therapy and chemotherapy. If men have unresponsive or advanced disease, oncologists can provide access to international clinical trials that are investigating the role of targeted therapies and immunotherapy.
Arizona Oncology, a leader in Arizona in providing comprehensive, compassionate cancer care, offers a state-of-the-art treatment for prostate cancer. Patients who require radiation treatments can now receive the SpaceOar® (OAR stands for "organ at risk") System, a temporary injectable gel that protects the rectum in men undergoing radiation therapy for prostate cancer either with external radiation (IMRT) or even with internal treatment aka Seeds. It was FDA approved April 2015. SpaceOar® hydrogel is made of polyethylene glycol (PEG). PEG is widely used in cosmetics and drugs because it is non-toxic and well tolerated by the body. SpaceOar® hydrogel the PEG is injected as a liquid that, within seconds, solidifies into a soft, gel-like synthetic material that expands and creates space between the prostate and rectum. Because it contains mostly water, it is called a "hydrogel."
Approval occurred after the results of a phase III trial that demonstrated a significant reduction in the dose to the rectum which translated into a significant decrease in side effects. The reduction in dose to the rectum was approximately 75% with zero patients having grade 2 or greater rectal toxicity 3 years after treatment.
The SpaceOar® System is placed in a patient prior to external radiation therapy through a minimally invasive, outpatient procedure. The SpaceOar® hydrogel is injected through a small needle into the space between the prostate and rectum while the patient is under local or general anesthesia and is inserted during the same procedure where small gold markers (called fiducials) are placed in the prostate to localize it prior to each radiation treatment or immediately following placement of the radioactive seeds used in brachytherapy.
Ultrasound imaging allows the physician to see and place the hydrogel in the proper location. On average, SpaceOar®hydrogel creates about 0.5 inch (or 1.3 cm) space between the prostate and rectum, permitting treatment to the prostate with much less rectum radiation injury and fewer complications. The gel remains in place for about three months during radiation treatment, and then liquefies, is absorbed and cleared from the body in the patient's urine.
"Providing the best possible treatment to patients is our top priority, which is why we are one of the first centers offering SpaceOar® hydrogel," said Curtis Mack, MD, radiation oncologist with Arizona Oncology. "Creating space between the prostate and rectum is an important advance that significantly diminishes the rectal dose during radiation treatments, and thereby reduces the likelihood of side effects. Currently, I am using it on patients being treated with daily intensity modulated radiation therapy as well as those patients who choose brachytherapy (Seed Implant)."
Since FDA clearance was granted, Dr. Mack has completed 45 cases and is the only physician certified in Southern Arizona to offer SpaceOar® hydrogel placement as part of radiation treatment for prostate cancer.
---
Authors: Curtis Mack, MD is a radiation oncologist at the Orange Grove office in Tucson.