Topics:
April 19, 2022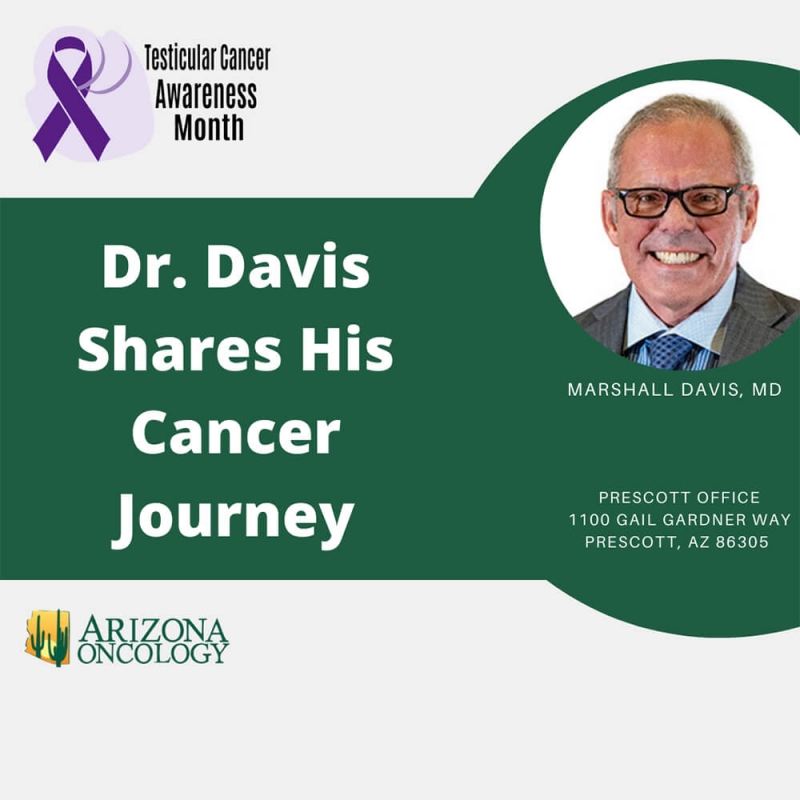 April is Testicular Cancer Awareness Month. Approximately 1 in 250 men will develop testicular cancer at some point during their lifetime, and Caucasian men are four to five times more likely to develop testicular cancer than African-American and Asian-American men. Testicular cancer mostly occurs in men aged 20 to 35 years old. Approximately 6% of cases occur in children and teens, and about 8% occur in men over 55.
If detected early, testicular cancer is one of the most curable forms of cancer. With today's treatments, testicular cancer survival rates are high, with 95% of men surviving five years after diagnosis.That number jumps to 99% if the cancer was localized in the testicle.
In this blog post, Arizona Oncology's Dr. Marshall Davis shares a personal account of his experience with testicular cancer and how it has helped him be the doctor he is today.
Dr. Marshall Davis' story
Dr. Davis is not only a radiation oncologist at Arizona Oncology, but also a 12-year cancer survivor. He was in practice for almost 25 years when he did a self-exam and discovered that he had a tumor on his testicle. Knowing that any changes in size or lumps could be a sign of cancer, he immediately approached a urology colleague who performed an ultrasound.
The next day, Dr. Davis had surgery to remove the testicle that had cancer in it, followed by a series of scans and chemotherapy. A year later, one of his scans showed that his cancer had recurred. As an oncologist who treats many testicular cancer patients, he knew that recurrence was a very real possibility. "It was disappointing, but it didn't surprise me," he said.
Radiation therapy is typically used to treat testicular cancer that has spread to lymph nodes or to distant organs. Dr. Davis' scans showed that there was cancer in his lymph nodes, and he underwent further surgery followed by radiation treatment. After radiation treatment, a follow up scan showed that the lymph node recurrences had disappeared.
But eight months later, right before Christmas, Dr. Davis felt a lump in his neck and realized that his cancer had returned. He said, "When I felt that lymph node, I almost cried because I knew what was next in line for me… really hard chemotherapy." Despite the difficulties he knew he'd face, Dr. Davis was determined to undergo the chemotherapy, because he knew that if he did nothing the cancer was going to kill him.
Dr. Davis has now been cancer-free for 12 years
It is with great enthusiasm that we can say that 12 years ago, Dr. Davis fought for his life and is now cancer-free! It wasn't easy, and he is quoted as saying, "There's no free lunch in treating cancer. You never get something for nothing." Since the chemotherapy, he has been living with many side effects. But he feels happy to be alive and to be able to continue to treat his patients. He firmly believes that "you can live with the side effects. What you can't live with is the cancer."
Dr. Davis' personal experience has given him a better understanding of how to help cancer patients through their treatment
After having been through a difficult cancer journey himself, Dr. Davis understands on a personal level what patients go through when they are being treated for cancer. "You worry about life, death, and everything in between," he recalled. He believes in helping patients through honesty and integrity. "You have to be honest with people about where they stand, and I've always felt like I've been able to do that effectively and with compassion. You can't shy away from giving patients bad news just because it's going to be hard. In my opinion, it's better to face up to bad news as soon as possible, so you can get on with your life and try to make sense of it."
You can learn more about Dr. Davis here.