Topics:
January 12, 2023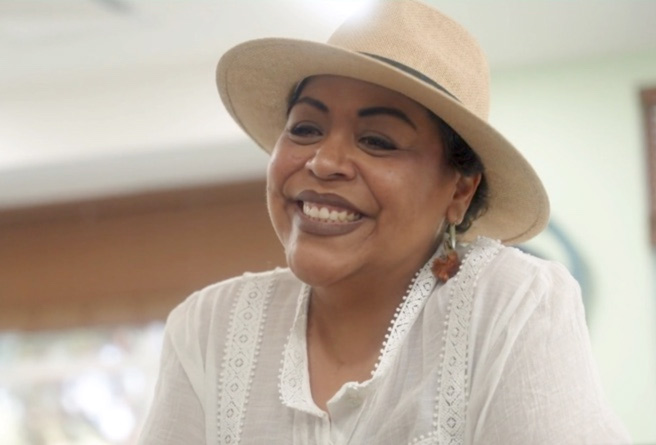 Jackie Dominguez had a very aggressive form of breast cancer, but with a multidisciplinary cancer care team who cared for her both physically and emotionally, she's thriving with and beyond cancer.
"The doctor was kind enough to not make me wait for the results. I'll never forget that," Jackie said. "But he also said that it wasn't a death sentence. He just reassured me that I wasn't going to die from this."
Jackie chose Arizona Oncology for treatment for her breast cancer. For most patients with breast cancer, surgery is the first step, and Jackie went to see Dr. Jennifer O'Neill, MD, FACS, breast surgical oncologist at Arizona Oncology's Goodyear office.
"Jackie came in with a very aggressive cancer," Dr. O'Neill said. "She came in with multiple lymph nodes involved and the features of the cancer that make it very aggressive and difficult, sometimes, to treat." Because of this, a chemotherapy-first approach was the best option for Jackie. "We were able to do that today with this comprehensive care that we offer," Dr. O'Neill said.
"I was referred to Dr. O'Neill from my gynecologist," Jackie explained. "When I called her, she did tell me I needed to get with an oncologist first. So I made my appointment with Dr. Nagaiah, and that same day I went right over and met with O'Neill at her office, so I saw both of them the same day."
Multidisciplinary Care
Comprehensive, multidisciplinary care is the cornerstone of Arizona Oncology's approach to cancer treatment. We offer state-of-the-art chemotherapy, immunotherapy, radiation, and surgical treatments, all within one practice. Our multiple locations across the state ensure you receive the care you need close to home.
"Cancer care is evolving rapidly, and we at Arizona Oncology embrace new technology," said Govardhanan Nagaiah, MD, medical oncologist and hematologist working out of our Goodyear office. "All of our patients get next generation sequencing, all of our patients have access to state-of-the-art clinical trials, all of our patients have access to state-of-the-art radiation oncology."
The next generation sequencing Dr. Nagaiah is referring to is a form of genomic testing. Not to be confused with genetic testing, which looks at inherited traits that affect cancer risk, genomic tests look directly at tumor tissue to help determine the best way to treat a particular cancer. Arizona Oncology offers both.
Comprehensive Care
"It was life-changing because before I had cancer, my life was defined by my work," Jackie said. "I wasn't going to slow down, and I was not going to shift my priorities. I didn't have a choice once I got breast cancer. I had to slow down, physically and mentally."
Comprehensive cancer care includes caring for the patient as a whole, physically, mentally and emotionally. Our nurse navigators help coordinate appointments and streamline processes. Our social workers offer real-world support, education, and strategies for managing life with cancer.
Jackie appreciated the support she got from staff throughout her cancer care journey. They talked her through the entire process. She felt like she was in a safe space during a frightening time.
"The first thing I try to do is give them a great big hug because I want them to know it's going to be okay," Dr. O'Neill explained. "We get through it now, we're going to get through it later. Life is to live."
At Arizona Oncology, we understand that cancer is personal. We never lose sight of the fact that you are an individual going through one of the most difficult circumstances of your life. Our care is focused on getting you through this, so that cancer can become just a "blip" on your radar.
"I have a whole different perspective in life," Jackie said. "Family and friends and my religion is the most important thing to me now."
You can watch the full video of Jackie's story at https://arizonaoncology.com/jackies-story.