Topics: Cancer Management, Cancer Treatment, Cancer Treatment Side Effects
September 25, 2020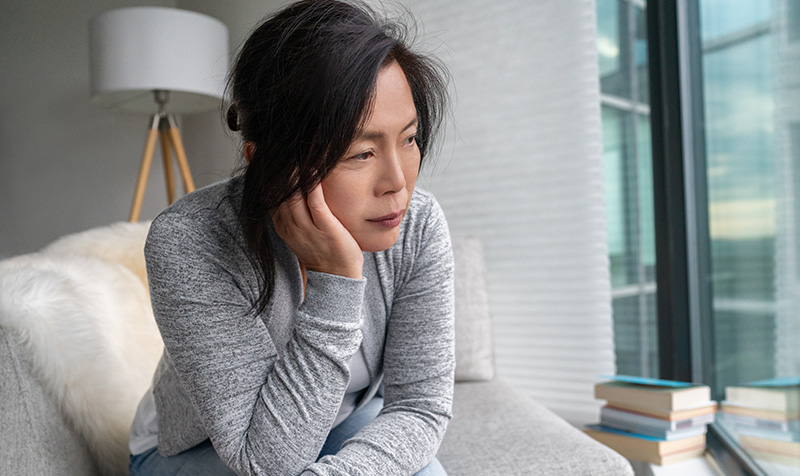 It's normal to feel anxious during cancer treatment with your number one concern whether the treatment will work. Add to that the stresses of managing appointments, family responsibilities, job responsibilities and you have the makings for a lot of anxiety. It can be enough to cause physical problems including irritability, shortness of breath, a tightness in your chest, and sleeplessness to name a few.
It's very important to give yourself a break during cancer treatment. Take a step back from all that you normally do to give yourself time to process all that is going on, and then find ways to help you feel better.
Here are some of the best options for relieving anxiety during cancer treatment. Not all of them will work for you, but be open to trying a few things to see what's best:
1. Join a Virtual Cancer-Specific Support Group
Today, you don't need to leave home to join a support group. Virtual meetings have become the new normal. There are both local and national support groups for various types of cancer that you can join.
And, with social distancing in place, it's easier to find a virtual group than it has ever been.
Support groups can:
Provide a safe place to voice your anxiety and receive support from people with similar problems.
Allow you to learn and incorporate things that other cancer patients have tried to help them feel better both physically and mentally.
Offer professional advice from experts who know how to minimize anxiety levels for cancer patients and their families.
Increase the quality of life by reducing anxiety, fatigue, pain, and emotional distress.
Provide emotional support to families and caregivers.
If you don't know where to find a support group, the American Cancer Society offers a searching tool. Check out our collection of local Arizona resources, national organizations, disease-specific organizations and support services for our patients.
2. Try Different Relaxation Techniques
Relaxation techniques aid both your body and your mind. It's worth noting that they tend to have a cumulative effect; the more you do them the better you feel.
Meditation - can balance emotions, relieve anxiety, and even reduce blood pressure. Many meditation guides exist online. However, taking a couple of lessons from an expert can help you achieve better results.
Visualization - the process of using your imagination to relax your mind and build positive emotions by visualizing something relaxing or positive. It improves your ability to relax by focusing the mind on calming imagery.
Deep breathing - studying different breathing techniques can help your body and mind cope with stress.
Progressive muscle relaxation - this technique involves tensing muscles as you breathe in and relaxing them as you breathe out.
Massage therapy - a professional massage may ease pain, headaches, stress, and anxiety in cancer patients.
3. Exercise Regularly
Everyone knows that exercise is good for their bodies. As a cancer patient, you may not feel up to it. But getting in even a little bit of physical exercise can actually increase your energy levels and boost your mood. This makes it easier to deal with all of the demands that cancer treatment puts upon you. Exercise can keep your mind off unsettling issues while stimulating the immune system.
Talk to your oncologist about the best exercise options for you. Yoga is an excellent exercise for both body and mind that reduces anxiety and helps you keep better balance and muscle strength. Right now you may not be able to take classes at a facility, but there are yoga classes online that could be useful for at-home practice.
4. Maintain a Healthy Lifestyle
Maintaining a healthy lifestyle can ease the pressure on your mind and body. Now may not be the time to try to lose a lot of weight, if that's one of your personal goals. But focusing on a healthy diet and making healthy lifestyle choices may result in reaching a healthy weight.
Adjust your diet - personalized nutritional strategies can help relieve stress and anxiety. Talk with the Arizona Oncology dietitian for more information on what to eat during cancer treatment.
Get enough sleep - Fatigue is such a common side effect for cancer patients that you may need more sleep than you're used to. Try to get between 7 and 9 hours of sleep each night and take naps when you need to. Everyone feels better when they're not overly tired!
Avoid negativity - if people around you make you experience stress, try to minimize contact with them. Lately, with all that's going on in the world, this might include spending less time on social media. If you find yourself experiencing negative emotions while on social media, put it down and give it a break for a few hours, or even a few days.
Kick bad habits - smoking and drinking alcohol can contribute to your anxiety instead of easing it.
5. Keep the Lines of Communication Open
Especially after months of quarantine, we know just how much better we feel when we're connected to other people. Without regular communication with those we love, you may start to feel anxious. Use Facetime or Zoom for live conversations, text and call others on the phone. If you find yourself avoiding social situations and shying away from relationships, you may be showing signs that anxiety is becoming a serious issue.
6. Find a Source of Religious or Spiritual Support
Spirituality and religion can help cancer patients and their families find a sense of peace and experience personal growth.
If you've never explored religion or spirituality, it may be a good opportunity to try. They can open up new ways to deal with anxiety and depression during cancer treatment and beyond. Meanwhile, spirituality exploration can keep your mind off cancer-related issues and even turn into a new hobby.
7. Seek Professional Counseling
Cancer patients may face severe depression and anxiety symptoms, if you're constantly feeling anxious or depressed, or if none of the above options work for you even some of the time, you may want to consider professional assistance. Talk with the oncology social workers at Arizona Oncology who can help you find a counselor that is experienced in the anxiety that cancer patients experience.
These specialists with a master's degree (or PhD) focus on the effects cancer has on patients and their families, including depression and anxiety. They can also refer you to local resources and help navigate the healthcare system.
8. Take Anti-Anxiety Medications
Your counselor or your medical doctor can talk with you about the possibility of using medications to help control your anxiety, especially if you simply cannot start to feel better at least some of the time. This might indicate that medication can help you to feel better, even if you only use it occasionally.
Talk to your doctor if you're experiencing anxiety symptoms such as:
Excessive fear and worry
Abnormally high distress
Restlessness
Muscle tension
Fatigue
Insomnia
Concentration problems
To get the right prescription, you need to be straightforward about your medical history and the current cancer treatment. Your oncologist can prescribe this for you.
Gaining Control Over Your Anxiety During Cancer Treatment
Even if you know that anxiety is normal, it doesn't make it easy to deal with. And you don't need to just hope it will go away. By trying some of the above tactics, you may be able to ease the excessive worry and improve the quality of your life tremendously. Some cancer patients are able to do this without medication. But don't feel like taking anti-anxiety medication is unusual. If you'll feel better and be closer to your normal self, it will be worth it.