Topics: Breast Cancer, Prostate Cancer
April 3, 2017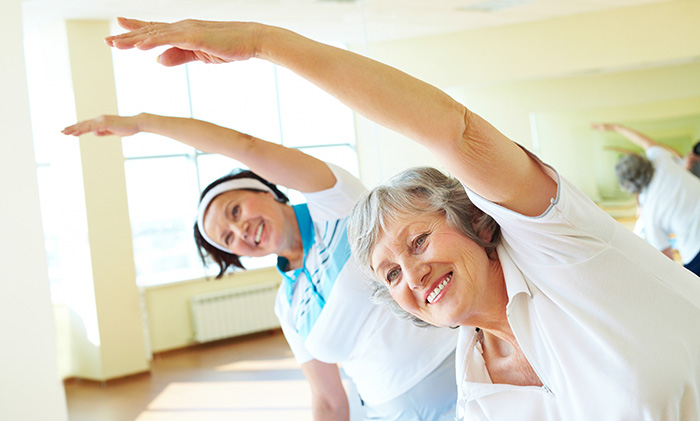 If your oncologist told you there was something safe, free, beneficial and often enjoyable you could do to improve mental and physical health while you undergo active cancer treatment, you might enthusiastically agree right away. Or, you might be skeptical. The good news is that research shows there is such an activity: Exercise!
It's true that cancer patients grappling with the tolls of radiation and chemotherapy typically don't make exercise a priority. They can feel physically and mentally exhausted by their cancer treatment regimens. Ironically, if you push through your initial exhaustion, you may discover exercise gives you an abundance of energy, as well as several other benefits. Two studies focusing on breast cancer patients and one on prostate cancer patients showed that exercising during active cancer treatment often yields measurable benefits.
Researchers Study Breast Cancer Patients
It's well-documented that exercise is beneficial to health. But does it provide extra benefits for individuals undergoing breast cancer treatment? Two studies conclude that for many patients, it does. In the first study, published in the Journal of Community and Supportive Oncology, researchers analyzed the results of 17 clinical trials involving nearly 1,200 breast cancer patients who participated in regular exercise regimens.
Patients participating in aerobic exercises (walking, jogging, swimming, cycling, etc.) experienced marked improvements in quality of life, sleep quality, self-worth, behavior, social well-being, metabolism and aerobic fitness. Patients participating in resistance training (weights, resistance bands, squats, etc.) experienced marked improvements in strength, lean body mass and loss of body fat, and slight improvements in quality of life, fatigue, cognitive function and depression.
Another promising study reported in the Supportive Care and Cancer journal followed 27 breast cancer patients undergoing treatment. The women followed a moderate resistance-training regimen for six months. None of the women developed lymphedema, which is a common side effect of breast cancer treatment.
Researchers Study Prostate Cancer Patients
A third study compared 32 prostate cancer patients participating in a combined aerobic exercise and strength training regimen with a control group of patients not exercising. After three months, the men who exercised during prostate cancer treatment were able to walk much faster than the control group and scored higher on lift-and-carry benchmark tests. The men who exercised also lost, on average, more than four pounds, shed body fat, and reported improvements in quality of life.
Exercise: Little Downside Potentially Huge Upside
Every individual and every cancer patient's situation is different. Generally, though, experts agree that mild to moderate physical activity offers myriad potential benefits for individuals being treated for cancer. According to the American Cancer Society, exercise may:
Prevent unwanted weight gain
Boost mood and energy
Ward off depression and anxiety
Improve blood flow
Lessen nausea
Lower the risk of heart disease
Prevent muscle atrophy
Restore mobility, including the ability to do day to day activities
Improve patients' optimism and quality of life
Additionally, multiple studies have concluded that regular exercise may reduce the likelihood of cancer recurrence and increase long-term survival rates.
Considerations Before Beginning an Exercise Regimen
The research is clear: Exercise has little to no downside and potentially a huge upside for patients being treated for cancer. In other words, if you're a cancer patient and don't currently exercise, it's time to talk to your doctor! Taking into account the type and stage of cancer you have, the treatments you're undergoing, and your physical stamina, strength and fitness level, your doctor should be able to tailor an exercise regimen that will be safe and, hopefully, beneficial to your physical and mental well-being or can refer you to a physical therapist with special expertise in oncology rehab.
Resources from Arizona Oncology
Our team is committed to supporting you throughout your cancer experience. We coordinate and work with many foundations and organizations throughout Northern Arizona, Southern Arizona and Phoenix to help support your overall health needs. We're here to answer questions and connect you with the resources you need, including exercise programs for cancer patients. Please connect with your Arizona Oncology practice in: Chandler (East Valley), Cottonwood, Deer Valley (West Valley), Estrella (West Valley), Flagstaff, Glendale (West Valley), Green Valley, Nogales, Peoria (West Valley), Phoenix, Prescott Valley, Safford, Scottsdale (East Valley), Sedona, or Tucson.
Sources: