Topics: Cancer Prevention, Cancer Risks, Signs & Symptoms, Skin Cancer
October 22, 2020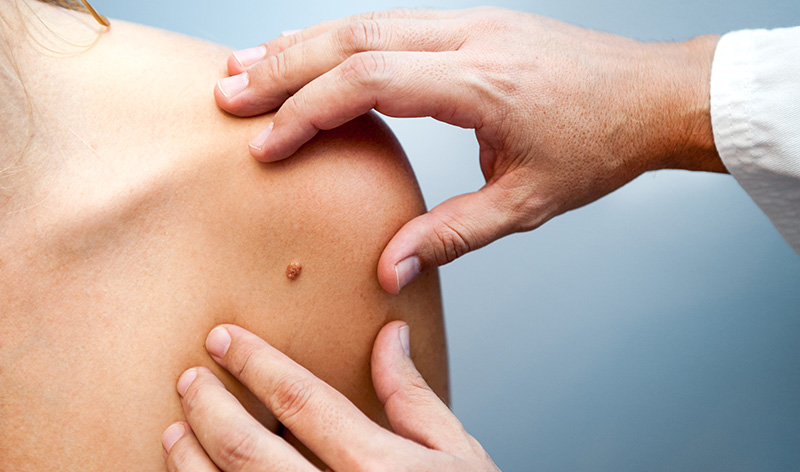 Skin cancer is by far the most common type of cancer with over five million cases diagnosed in the U.S. each year. Fortunately, skin cancer in its many shapes and sizes is also one of the most preventable forms of the disease.
The major risk factor is prolonged exposure to ultraviolet (UV) radiation primarily from the sun. The sun-smart strategies below will go a long way in helping prevent the disease.
Arizona Oncology's Dr. Roberts advocates that you take time to educate yourself about skin cancer and how to recognize and prevent the disease.
Early Detection Starts With You
When diagnosed and treated early, skin cancers are highly curable. And in the early stages of skin cancer development, you're the one with the best chance to see changes. That's why we recommend that you examine your skin head-to-toe every month. It's a simple but powerful way to look at yourself with a new focus that can save your life.
Because skin cancers appear in many shapes and sizes, it's important to know the warning signs associated with basal cell carcinoma (BCC), squamous cell carcinoma (SCC), melanoma, Merkel cell carcinoma (MCC) and the pre-cancer actinic keratosis (AK).
If you see something NEW, CHANGING or UNUSUAL, contact your primary care physician immediately. Look for:
Asymmetry. If you draw an imaginary line through the middle of melanoma, the two halves would not match.
Border. The edges of melanoma are usually uneven, fuzzy or jagged.
Color. Melanomas change colors and are often a combination of black, brown and tan.
Diameter. Melanomas may grow larger than the size of a pencil eraser.
Elevation. Once a mark on your skin becomes raised or thicker, it is a serious red flag indicating a melanoma may be spreading and should be evaluated by a doctor immediately.
Find helpful photos of each of these changes in our skin cancer signs and symptoms section.
There's No Such Thing as a Healthy Tan
Tanning is actually the skin's reaction to harmful UV radiation exposure. According to the American Cancer Society, UVA and UVB rays from the sun or a tanning bed increase your cancer risk, damage your skin cells and speed up visible signs of aging.
Tips For Outdoor Safety
UV radiation from the sun isn't just dangerous, it's also sneaky. it reaches you even when you're trying to avoid it penetrating clouds and glass, and bouncing off of snow, water and sand.
Preventing skin cancer by protecting yourself requires a comprehensive approach. The American Cancer Society recommends the following:
Protect skin with clothing such as long-sleeve shirts and hats with a broad brim.
Avoid being outdoors when the ultraviolet light is strongest, particularly between the hours of 10 a.m. and 4 p.m.
Seek shade.
Use sunscreen and lip balm with an SPF of 30 or more on areas of the skin exposed to the sun.
Wear wrap-around sunglasses with at least 99 percent UV absorption to provide the best protection for the eyes and the skin around the eyes.
Avoid other sources of UV lights, such as tanning beds and sun lamps.
Protect children from the sun by using the same precautions as adults.
If you find any areas of concern about your skin, immediately schedule an appointment with your primary care physician to determine if you need to be referred to a skin cancer specialist for further diagnosis.
As a community-based cancer care provider with clinic locations throughout the state, Arizona Oncology skin cancer doctors help cancer patients and their families access a full range of advanced skin cancer care services.
Through its affiliation with The U.S. Oncology Network, one of the nation's largest healthcare services networks dedicated exclusively to cancer treatment and research, our skin cancer specialists can quickly bring the latest advances in therapies, research and technology to where patients live.
Arizona Oncology plays a major role in helping patients win the battle against cancer by providing convenient access to a full range of cancer care services within a compassionate setting. Arizona Oncology believes it is beneficial to provide cancer therapies in a community setting close to patients' homes and support systems.