Locations: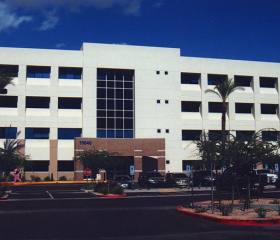 19646 N. 27th Ave. #406
Phoenix, AZ 85027
View Map
Education & Credentials
Medical School
The University of Damascus, Damascus, Syria
Residency
Youngstown, OH at The Western Reserve Care System/NEOUCOM
Fellowship
Hematology and Oncology at Allegheny General Hospital and the Western Pennsylvania Hospital/Temple Univ.
Board Certification
Medical Oncology and Hematology.
Languages
Arabic
English
Biography
Originally from Damascus, Syria, Dr. Khattab is a member of the American College of Physicians and is a member of the American Society of Hematology, and American Society of Clinical Oncology. In 2003, he won the Intern of the Year Award, in 2005; he won the Patient Care Award and received the NEOUCOM Certificate of Appreciation. Dr. Khattab served as Assistant Professor of Internal Medicine at North Eastern Ohio Universities, College of Medicine, Rootstown, OH between March 2006 until June 2010. Outside of practicing medicine, Dr. Khattab enjoys playing soccer and traveling.