Locations: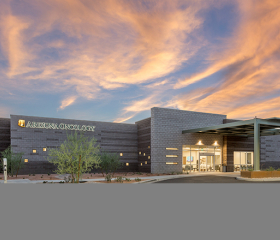 7695 S. Research Dr.
Tempe, AZ 85284
View Map
Education & Credentials
Medical School
Osmania Medical College, India
Residency
Baptist Medical Centers
Fellowship
Mayo School of Graduate Medical Education
Board Certification
Medical Oncology
Academic Honors & Professional Achievements
Merit Award, American Society of Clinical Oncology
Grant, Chicago Multidisciplinary Symposium in Thoracic Oncology
Assistant Professor of Medicine, Mayo Clinic College of Medicine
Program Director, Hematology and Oncology Fellowship, Mayo Clinic Arizona (2015-2019)
Vice-Chair of Education, Hematology & Oncology, Mayo Clinic Arizona
Chair, Program Evaluation Committee, Mayo Clinic Arizona
Affiliations
American Society of Clinical Oncology (ASCO)
International Association for the Study of Lung Cancer (IASLC)
Languages
English
Hindi
Telugu
In The Media
Biography
Dr. Paripati obtained her medical degree from Osmania Medical College, one of the most prestigious and oldest medical schools in India. She completed her residency in internal medicine at Baptist Medical Centers in Birmingham, Alabama. She was selected to be the first fellow in hematology and oncology at Mayo Clinic Arizona in 2006. She completed her fellowship in hematology and oncology in 2009, and stayed on staff at Mayo Clinic until April 2019. She was appointed assistant professor of medicine at Mayo Clinic College of Medicine. She also served as program director of the hematology and oncology fellowship at Mayo Clinic.
Dr. Paripati treats a variety of cancers with specific expertise in thoracic cancers (lung cancer, mesothelioma), head & neck cancer, and esophageal/gastric cancer. She has published extensively in her field and has presented at multiple national and international meetings, including ASCO and IASLC.
Philosophy
My philosophy is simple: I strive to do the very best I can for every patient that I see. I aim to provide high quality, personalized care based on cutting-edge research.
I love connecting with patients and their families and being there for them through their cancer journey. I also place emphasis on quality of life, and it is very important to me to understand each patient's goals and wishes.
Personal
I live with my husband and two boys. In my free time, I enjoy spending time with my family. My boys keep me on my toes and are my biggest pride and joy! I love reading, traveling, and trying new cuisines.