Locations: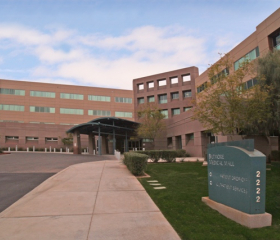 2222 E. Highland Ave., #400
Phoenix, AZ 85016
View Map
Education & Credentials
Medical School
Shahid Beheshti University of Medical Sciences
Residency
Banner University Medical Center
Fellowship
Medical Oncology/Hematology - University of Louisville and Neuro-Oncology - Barrow Neurological Institute.
Board Certification
Medical Oncology
Internal Medicine
Academic Honors & Professional Achievements
Best Doctor Award in Phoenix, Arizona in 2019
Affiliations
American Society of Clinical Oncology (ASCO)
Society of Immunotherapy of Cancer (SITC)
Society of Neuro-Oncology (SNO)
American College of Physicians (ACP)
Languages
English
Farsi
Biography
Dr. Amir Azadi earned his medical degree at Shahid
Beheshti University of Medical Sciences and Health
Services in Tehran, Iran. He completed his internship
and residency in internal medicine at Banner University
Medical Center in Phoenix. Dr. Azadi then went on to
complete his fellowship in medical oncology-hematology
at James Graham Brown Cancer Center at the University
of Louisville, Kentucky before finishing his fellowship
in neuro-oncology at Barrow Neurological Institute in
Phoenix.
Personal
In his spare time, Dr. Azadi and his wife can be found
hiking, biking, and enjoying outdoor adventures together.
Dr. Azadi also loves tennis, trail running, and his Pyrenees.