Scottsdale - Gynecologic Oncology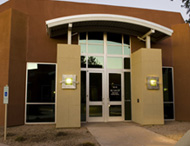 10197 N. 92nd Street, Suite 101
Scottsdale, AZ 85258
Phone: (480) 993-2950
Fax: (480) 993-2957
Physicians at this location
Specialties at this location
Gynecologic Oncology

Treatments & Services
Clinical Trials & Research
Genetic Risk Assessment
Outpatient Chemotherapy
Pharmacy/Admixture

December 8, 2017

I was enjoying my very busy life as a radiation oncologist, in a relationship, running, going to CrossFit daily, and taking care of three dogs, when my world changed with a simple blood test.

At 3:30 in the afternoon on July 9th, I saw my last new patient of 2013, and was admitted to the hospital at 8 am the next day. I was diagnosed with acute lymphoblastic leukemia with multiple critical issues. I was not permitted to leave the hospital for 23 days. It took a village to come to my aid, providing care for my menagerie of pets, including the dogs and two cats, taking care of my house and assuming the care of all of my patients.

While I was in the hospital, I was not able to see my dogs (okay, I snuck out to the sidewalk a couple times, our little secret). After discharge, caring for my dogs gave me the necessary motivation to move, after losing muscle and strength during my stay in the hospital.

October 11, 2017

There are a number of prescription and over-the-counter nicotine replacement therapies that can help greatly when stopping the use of tobacco. But quitting typically takes more than that. It requires a change in your lifestyle. It can be done! Here are four things you can do to get on the path to reducing your risks of lung cancer, heart disease, and stroke.

1. Prepare before you quit smoking.

Preparation is the key to success in any new endeavor. Decide on a specific date to quit smoking, make a plan, and then stick to it. Don't try to pick a date if you're in the middle of a major life change such as starting a new job or the death of a loved one. You may end up reverting back to your smoking habit quickly which can be discouraging.