Scottsdale - Gynecologic Oncology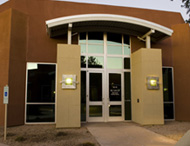 10197 N. 92nd Street, Suite 101
Scottsdale, AZ 85258
Phone: (480) 993-2950
Fax: (480) 993-2957
Gynecologic Oncology
Treatments & Services
Clinical Trials & Research
Genetic Risk Assessment
Outpatient Chemotherapy
Pharmacy/Admixture

December 31, 2019

Arizona means living with sunshine year round, even when it's not super hot outside. That can be dangerous for your skin. Some people believe that the cooler weather in winter decreases their risk of developing skin cancer. The truth is, regardless of the temperature outside, the sun can still cause skin damage. All sun exposure can lead to a higher risk of skin cancer–even in those winter months that aren't super hot.

November 20, 2019

If you're scheduled for a prostate biopsy, your doctor is likely testing a tumor for cancer. During this outpatient procedure, tissue will be removed from the tumor using a needle. It will then be analyzed by a pathologist, a doctor who reviews the results of the biopsy and provides information about the findings. The results of your biopsy are provided in a pathology report.

Your oncologist or urologist will use the pathology report as a key piece of information in determining if cancer is present and the stage, based on the cell structure in the tumor. It will also play a key role in determining whether treatment is needed at this time.