Scottsdale - HH Cancer Transplant Institute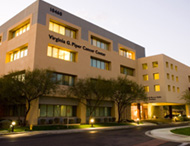 Scottsdale - Stem Cell Transplant Service
10460 N. 92nd Street, Suite 200
Scottsdale, AZ 85258
Phone: (480) 323-1573
Fax: (480)882-5876
May 19, 2019

Skin cancer is the most common form of cancer in this United States, but it is also one of the most preventable. With the heat and activity of the summer months still upon us, it is important to be proactive in protecting your skin from the sun and other sources of ultraviolet (UV) radiation.

UV rays are invisible to the naked eye and are more intense in the summer, at higher altitudes, and in areas closer to the equator. Overexposure to ultraviolet radiation from the sun causes sunburn (erythema), skin cancer, premature aging (skin wrinkling), cataracts (gradual clouding of the lens of the eye), immune system suppression, DNA damage and dilated blood vessels.

April 9, 2019


Prostate cancer and testicular cancer are two different diseases affecting the male reproductive system. These cancers occur in two different locations and commonly affect men at different stages of their life. Because of these differences, it's important for ALL men to learn as much as they can so they can take the appropriate steps toward early detection.