Scottsdale - HH Cancer Transplant Institute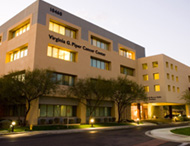 Scottsdale - Stem Cell Transplant Service
10460 N. 92nd Street, Suite 200
Scottsdale, AZ 85258
Phone: (480) 323-1573
Fax: (480)882-5876
June 5, 2020

More people than ever are working from home as the effects of COVID-19 spread across the globe. This difference in workspace leads to changed schedules for both parents and children.

Some of the perks that come with this working from home include flexible hours, spending more time with family, and leaving your commute behind. Unfortunately, you could also be exposing yourself to additional skin cancer risks that you don't normally face. Watch for these risks and use practical tips to prevent extra sun exposure while working from home.

May 22, 2020

In the battle against skin cancer, information is one of the key weapons in your arsenal. With an overwhelming variety of cancer-related articles on the Internet, it's often hard to tell what's real and what isn't.

Let's debunk the most common skin cancer myths and discuss trusted information sources to help you with further research.

Myth 1: Dark-skinned population doesn't suffer from skin cancer.

Truth: People suffer from skin cancer regardless of their skin color. According to a study published by the American Cancer Society in 2019, the 5-year relative survival rate for white patients was 94%. For black patients, it was 66%.