Scottsdale - HH Cancer Transplant Institute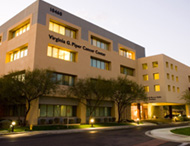 Scottsdale - Stem Cell Transplant Service
10460 N. 92nd Street, Suite 200
Scottsdale, AZ 85258
Phone: (480) 323-1573
Fax: (480)882-5876
November 20, 2019

If you're scheduled for a prostate biopsy, your doctor is likely testing a tumor for cancer. During this outpatient procedure, tissue will be removed from the tumor using a needle. It will then be analyzed by a pathologist, a doctor who reviews the results of the biopsy and provides information about the findings. The results of your biopsy are provided in a pathology report.

Your oncologist or urologist will use the pathology report as a key piece of information in determining if cancer is present and the stage, based on the cell structure in the tumor. It will also play a key role in determining whether treatment is needed at this time.

November 19, 2019

What is the American Cancer Society's Great American Smokeout? It's an annual event, held the third Thursday of every November, a date on which smokers nationwide are asked to give up smoking. Quitting for just one day helps you take action toward a healthier life, and reduce your lung cancer risk.

Each year, the Great American Smokeout calls attention to the deaths, lung cancer diagnoses and other chronic diseases that smoking causes, and how to prevent them. As a result of this event, there have been actions taken towards reducing the health impacts that smoking can have on smokers and non-smokers including:

Many states and local governments have banned smoking in restaurants, public spaces, and workplaces.
Increased taxes on cigarettes
Limiting of cigarette advertisements and product placements.