Scottsdale - HH Cancer Transplant Institute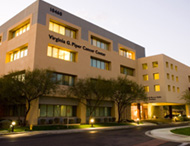 Scottsdale - Stem Cell Transplant Service
10460 N. 92nd Street, Suite 200
Scottsdale, AZ 85258
Phone: (480) 323-1573
Fax: (480)882-5876
January 29, 2019

I'm done with Ovarian Cancer Treatment, now what?

This is a common question among women who have recently gone through treatment for ovarian cancer–and rightfully so. While the thought of remission can bring a sense of relief, there are also concerns about what other challenges may lie ahead regarding lifestyle changes, fertility, and the possible chance of recurrence.

If you have recently finished ovarian cancer treatment it is important to remember to give yourself time to adjust to any physical and emotional changes you are going through. Eventually, ovarian cancer survivors re-establish a daily routine–and you will too, at your own pace.

January 25, 2019

A study published in the Journal of the National Cancer Institute made headlines last year for its startling and mysterious conclusion: The incidence of colorectal cancer in young adults has increased sharply in generations born after 1950. Individuals born in the 1990s (currently age 20 to 29) are twice as likely to develop colon cancer and four times as likely to develop rectal cancer than individuals born in the 1950s were at those ages.

Unfortunately, no one has discovered why is this type of cancer is suddenly on the rise in younger adults. Cancer researchers suspect contributing factors may include changes in diet, more sedentary lifestyles, and obesity. Another theory is that cancers are simply being detected much earlier than in past decades.