Scottsdale - HH Cancer Transplant Institute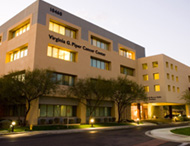 Scottsdale - Stem Cell Transplant Service
10460 N. 92nd Street, Suite 200
Scottsdale, AZ 85258
Phone: (480) 323-1573
Fax: (480)882-5876
July 26, 2019

Breast cancer survival rates are improving. The average 5-year survival rate for women with invasive breast cancer is 90%. If the cancer is located only in the breast, survival rates are even higher, averaging 99%, five years after diagnosis. Breast cancer screening is vital for early detection and increasingly successful treatment of breast cancer.

June 27, 2019

Even though statistics show 1 in 8 U.S. women will be diagnosed with breast cancer, there is hope on the horizon. Overall, survival rates continue to rise and women are living longer after beating the disease. In order to keep this momentum, however, which can lead to improved care and better outcomes, it's necessary to continue advancing our understanding of the disease through research.

Breast cancer research opens the door to finding better ways to prevent, detect, and treat breast cancer, and to improve the quality of life of both cancer patients and survivors. From studying causes and prevention to learning how to manage and treat, here are some of the main focuses in breast cancer research today.