Scottsdale - Gynecologic and Medical Oncology, Hematology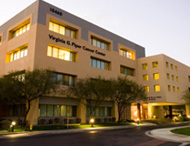 10460 N. 92nd Street, Suite 402
Scottsdale, AZ 85258
Phone: (480) 860-2540
Fax: (480) 860-2536
Treatments & Services
Diet & Nutrition Services
Clinical Laboratory
Clinical Trials & Research
Genetic Risk Assessment
Outpatient Chemotherapy
Pharmacy/Admixture

April 23, 2018

It's no secret that being carrying excess pounds can lead to serious health consequences–but did you know that it can also raise your risk for certain types of cancer? National Health and Nutrition Examination Survey (NHANES) showed that in 2011–2014, nearly 70% of U.S. adults aged 20 years or older were overweight or obese.

Research shows that higher amounts of body fat can increase the risk for several types of cancer, including liver cancer, kidney cancer, colon cancer, rectal cancer, endometrial cancer, esophageal cancer, pancreatic cancer, gallbladder cancer, thyroid cancer, cervical cancer, ovarian cancer, and breast cancer (in women past menopause). Obesity also increases risk for developing advanced prostate cancer, which is the most dangerous stage of the disease.

April 18, 2018

Chances are you or someone you know has a close relative or friend that has been impacted by breast cancer and they may even be receiving breast cancer treatment at our facility in Phoenix. Busting these common myths about breast cancer can help you be informed about what's real when it comes to this disease.