Scottsdale - Medical and Gynecologic Oncology, Hematology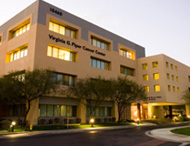 10460 N. 92nd Street, Suite 402
Scottsdale, AZ 85258
Phone: (480) 860-2540
Fax: (480) 860-2536
Specialties at this location
Medical Oncology & Hematology

Treatments & Services
Diet & Nutrition Services
Clinical Laboratory
Clinical Trials & Research
Genetic Risk Assessment
Outpatient Chemotherapy
Pharmacy/Admixture

January 4, 2018

Colorectal cancer is the third most commonly diagnosed cancer in the United States. The 2017 estimate is 135,430 new diagnoses of colorectal cancer and 50,260 deaths. The goal for health care providers is to reduce these deaths through early detection. Colon polyps can develop over 10-15 years. When detected early, polyps can be removed reducing the risk of developing and dying of rectal or colon cancer. Early detection becomes your ally yet, only 60% of Americans who should get screened, do.

December 20, 2017

Significant achievements have been made in the management of patients with cancer from research involving clinical trials over the last few decades. In fact, from November 2015 to October 2016, a whopping 20 different therapies for more than 12 different cancers were approved (Journal of Clinical Oncology, 2016). Cancer clinical trials are designed to achieve specific goals such as determining the safest and most effective dose of a new drug, uncovering the potential side effects of interventions, and finding new surgical or radiological methods.

Clinical Trial Phases

Phase I

Research, which leads to human testing, often starts at the test tube level. For cancer, this may include treating cancer cells with the drug(s) of interest.