Phoenix - Biltmore Cancer Center (Radiation Oncology)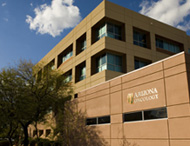 2222 E. Highland Avenue, Suite 130
Phoenix, AZ 85016
Phone: (602) 283-2345
Fax: (602) 283-3039
Physicians at this location
Specialties at this location
Radiation Oncology

Treatments & Services
PET Imaging
Radiation Therapy
High-dose-rate Brachytherapy
Intensity-Modulated Radiation Therapy

December 26, 2017

"Can you tell me what radiation therapy is?" my patient, a retired healthcare worker, quickly but quietly asked me as soon as I entered the exam room. I knew before I had even entered the room that she had just been diagnosed with a lung cancer. She was clearly overwhelmed by her diagnosis, and even though she had worked in the healthcare field for decades of her life, she had never come across radiation therapy or even a radiation oncologist.

December 20, 2017

Significant achievements have been made in the management of patients with cancer from research involving clinical trials over the last few decades. In fact, from November 2015 to October 2016, a whopping 20 different therapies for more than 12 different cancers were approved (Journal of Clinical Oncology, 2016). Cancer clinical trials are designed to achieve specific goals such as determining the safest and most effective dose of a new drug, uncovering the potential side effects of interventions, and finding new surgical or radiological methods.

Clinical Trial Phases

Phase I

Research, which leads to human testing, often starts at the test tube level. For cancer, this may include treating cancer cells with the drug(s) of interest.