Women diagnosed with cancer want personalized care from physicians who will provide the best chance for long-term survival – no matter how complex their disease. Gynecologic oncology involves the treatment of various cancers of the pelvis or reproductive systems, including ovarian cancer, cervical cancer, endometrial cancer, vulvar cancer, and vaginal cancer. With a unique depth of experience and access to the latest treatment options, we can develop and implement the treatment plan that fits your needs.
---
At Arizona Oncology, our board-certified gynecologic oncologists treat patients with targeted treatment options including chemotherapy, advanced surgical techniques, and cutting-edge clinical trials. Our physicians are up-to-date on genetics and molecular profiling of tumors and believe in individualized treatment, as well as evidence-based approaches. We understand the impact of cancer and its treatment on all aspects of women's lives.
Our gynecologic oncology team consults with your other oncology specialists to develop treatment plans, evaluate your progress, and determine your best options. They offer medical guidance, helping you make decisions along the way. They are also available to assist you and your family with the best support services for educational, emotional, and financial challenges you may face. We pledge to apply our clinical expertise with compassion, respect, and emotional support for each patient and her family.
Treating Various Gynecologic Malignancies:
• Ovarian Cancer
• Trophoblastic Disease
• Uterine Cancer
• Complex Pelvic Surgery
• Cervical Cancer
• Endometrial Cancer
• Vulvar Cancer
Specialized Cancer Treatment Capabilities:
• Evidence-based Cancer Treatment Plans
• Personalized Chemotherapy
• Research and Clinical Trials
• Genetic and Molecular Profiling of Tumors
• da Vinci® Robot-assisted Surgical System
• Minimally Invasive Laparoscopic Surgery
---
Genetics and Molecular Profiling of Tumors
Advancements in cancer treatment allow our oncologists to gather specific information about tumor properties that lead to targeted therapies and more personalized treatments. Profiling enables the selection of drugs best matched to a tumor's molecular make-up while reducing unnecessary drug toxicities.
---
da Vinci® Robotic System
Arizona Oncology gynecologic oncologists perform the most da Vinci® robotic minimally invasive cancer surgeries in Arizona. This technology allows the surgeon to have improved dexterity, visualization and control. The advantages for the patient can include less pain and scarring, lower risk of infection and blood loss, a shorter hospital stay, and faster recovery.
---
Collaboration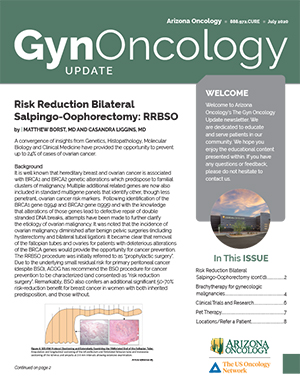 We believe close collaboration and communication are essential to personalized cancer care. We work closely with your referring physician about your individual needs and we are committed to keeping you informed throughout the process. For patient ease, our staff helps coordinate any additional lab work or testing that may be needed; and a summary report is sent to your physician after each visit.
---
Clinical Trials
Every day we make progress in the fight against gynecologic cancer with the development of new diagnostic tools, treatments, and therapies. We are leading this progress by participating in clinical trials that test new drugs, unique approaches to surgery and radiation therapy, as well as various combinations of treatments. As an affiliate of The US Oncology Network, one of the nation's largest community-based cancer treatment and research networks, our physicians have participated in the FDA approval of over 50 cancer-fighting drugs.
---
What To Expect If You Get Diagnosed With Ovarian Cancer (Video)
What is Risk Reduction Surgery? (Video)