About the East Valley Cancer Center
Arizona Oncology's newest cancer treatment center offers East Valley cancer patients convenient access to the latest cancer therapies, technologies, and cancer research available. It is the only cancer center in the East Valley to provide medical oncology, radiation oncology, gynecologic oncology, and hematology services in one location. This new and convenient location in the East Valley allows cancer patients access to advanced diagnostics including PET/CT, genetic testing services, and supportive care services close to home.
We strive to provide patients comprehensive state-of-the-art care in a convenient, comfortable setting close to home where they have the support of family and friends. This beautiful new facility will play a vital role in meeting that goal for our East Valley patients. The East Valley facility will also incorporate the very latest design concepts to support patient comfort, serenity, and healing while patients receive leading-edge cancer care services.
Patient-Centered Approach
When our oncologists collaborate to fight cancer, patients benefit. At Arizona Oncology, our integrated approach to care means that each patient's cancer care team, from their medical oncologist, to their radiation oncologist and the support staff, works in partnership to ensure the highest quality and most advanced care possible. Your care team may include a medical, surgical and radiation oncologist, a diagnostic radiologist and a pathologist that work in close collaboration with certified oncology nurses, nurse navigators, patient benefit representatives and many other healthcare professionals to meet the complex needs of patients with cancer and their families. In addition, a variety of support groups and a care team that helps create your individualized treatment plan.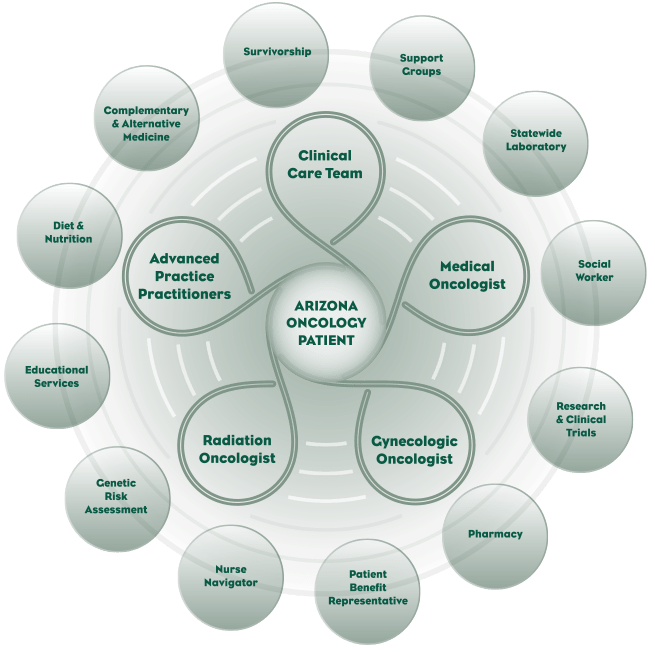 Cancer Education
Arizona Oncology is dedicated to educating patients and their families about cancer. We want to provide the most up-to-date information on cancer treatment types, clinical trials and cancer research, survivorship, cancer prevention, supportive care, new cancer treatment technologies and many more topics to educate about cancer. Our goal is to provide our patients with information and resources that will help you better understand your disease and become knowledgeable on the latest cancer topics.