Topics: Cancer Survivorship
July 17, 2021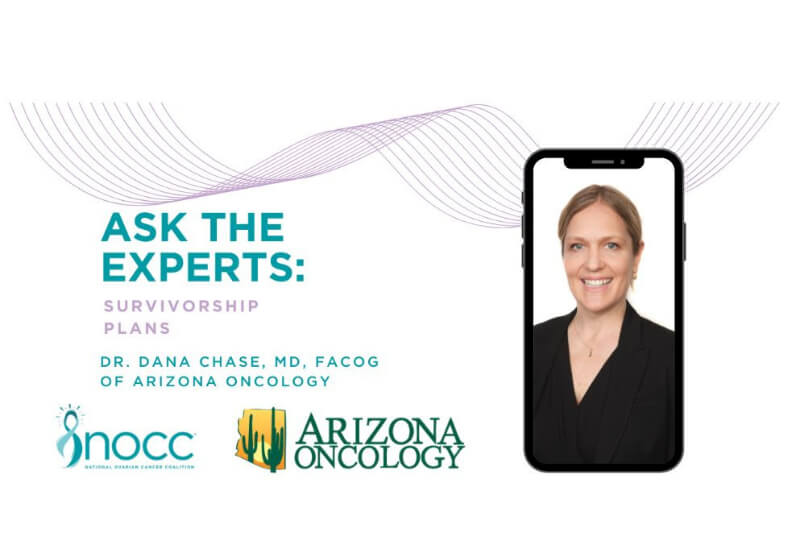 A chat with Dr. Dana Chase
In a recent "Ask the Experts" panel with Ilana Feuchter from the National Ovarian Cancer Coalition, Arizona Oncology's Dr. Dana Chase went over the details of a cancer survivorship plan and how to build one.
A cancer survivorship care plan should contain four basic elements: what you went through, what you need to do for follow up, what to watch for, and how to keep yourself healthy moving forward. It may also include legal and insurance-related documents that can affect your future care. Let's take a closer look at Dr. Chase's tips for creating a cancer survivorship plan.
Who needs a survivorship plan?
First of all, you don't have to be in full remission to be considered a survivor. The survivorship care plan can come into play at different times, but most of the time it is developed when one or more treatments are completed.
"When a patient finishes cancer treatment, whether or not it's surgery, radiation and/or chemo, there are a lot of questions as to what's going to happen next," Dr. Chase said. "The patient has usually undergone a lot of different treatments, had different side effects, different experiences, and there's a lot of build-up to this period of remission and an unknown as to what to do next."
What is a survivorship plan?
So what does come next? Your survivorship care plan! Dr. Chase outlined four specific areas that should be covered in a survivorship plan:
What you went through. This is a summary of your cancer treatments. Obtaining this information might include printing out records you don't already have. The summary should include pathology reports, medications you received (including notes on any medications you are allergic to), what kind of radiation you were given and for how long, etc.
"Staple these to your care plan," Dr. Chase advised. "That helps doctors down the road know what you had and what to give you."
Your follow up. This part of the plan details when you will need to come back to the doctor and what tests you'll need to have done before you come. Dr. Chase recommended that you schedule these appointments right away. Often, the medical office's automated systems will send out reminders for you, but it's a good idea to have them written down in your care plan, too. Follow up might also include appointments with a genetic counselor and other health care professionals.
What to watch for. Your doctor will share information with you about the possibility of recurrence and signs of concern. You also need to know about red flags that signal you should come in to see the doctor sooner than your scheduled appointment.
How you can help yourself feel better. This last part of the plan can involve a number of topics from nutrition, exercise, and coping strategies to managing the side effects of your prior treatments or maintenance medications (if you are on any).
"Reaching out and letting us know if you are suffering is really important," Dr. Chase said. There are ways to manage the side effects of maintenance medications, including lowering your dosage, treating the side effects with other meds, or switching medications. You may even be able to take a break from a PARP inhibitor if side effects are particularly difficult to manage, she stated.
Survivorship care plan templates
Templates to create your own survivorship care plan can be found online through the American Cancer Society and other support organizations. This cancer survivor care plan can be printed and filled out by you or a loved one. The American Society of Clinical Oncology offers free, downloadable diagnosis-specific survivorship care plans as well.
If your provider has not sat down with you to develop a survivorship plan yet, a good place to start is with a printout of the summary section or "note" in your medical chart. "Usually your note has your diagnosis, the treatment you've had, and your follow up," Dr. Chase said.
Additional things to consider
Survivorship plans can be very personalized. Some additional things you might want to include are:
Legal documents. These could include a Living Will, Power of Attorney, and insurance documentation. While these aren't necessarily comfortable topics, and the focus of "survivorship" is supposed to be positive, Dr. Chase stated that when you are healthy and feeling well is the best time to make these types of decisions.
Follow up for other health concerns. Often when you receive a cancer diagnosis, other less serious health problems fall off your radar. Dr. Chase said that once you've finished treatment, it's a good time to check in with your general practitioner and other care providers regarding non-cancer-related health problems, such as high blood pressure or diabetes. This is also a good time to get up-to-date on cancer screenings you may have missed (i.e. PAP, mammogram, colonoscopy, skin check).
Talking with your family. Including your family in your survivorship plan can be stressful (for them and for you), but it's important. Dr Chase offered some advice on talking to family members: "What is helpful is to say to the family member: 'I realize this might be stressful to you, but the way you can help me to feel better is to know what happened to me and to know how to help me in the future'."
_________________
Dr. Dana Chase is a board certified gynecologic oncologist at Arizona Oncology. Her expertise includes gynecologic cancers such as ovarian, endometrial, uterine, cervical and vulvar cancer. She is a member of NRG Oncology, the Society of Gynecologic Oncology, the American Society of Clinical Oncology, and is a Fellow of the American College of Obstetricians and Gynecologists. Dr. Chase has over 30 peer reviewed publications and 35 abstracts presented at organizational meetings. She has expertise in research and collaborative projects on scientific questions related to quality of life, symptom management, novel chemotherapy agents, and supportive care. You can learn more about Dr. Chase in her biography.