December 8, 2017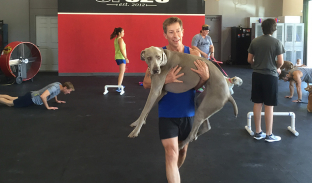 I was enjoying my very busy life as a radiation oncologist, in a relationship, running, going to CrossFit daily, and taking care of three dogs, when my world changed with a simple blood test.
At 3:30 in the afternoon on July 9th, I saw my last new patient of 2013, and was admitted to the hospital at 8 am the next day. I was diagnosed with acute lymphoblastic leukemia with multiple critical issues. I was not permitted to leave the hospital for 23 days. It took a village to come to my aid, providing care for my menagerie of pets, including the dogs and two cats, taking care of my house and assuming the care of all of my patients.
While I was in the hospital, I was not able to see my dogs (okay, I snuck out to the sidewalk a couple times, our little secret). After discharge, caring for my dogs gave me the necessary motivation to move, after losing muscle and strength during my stay in the hospital.