May 5, 2022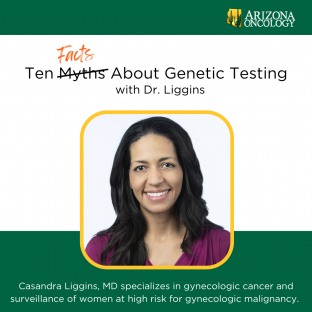 Most people have heard about genetic testing when it comes to cancer risk, but there is a lot of misinformation. Today, gynecologic oncologist Casandra Liggins, MD joins us to bust the myths about genetic testing and share the facts.
MYTH #1: Most Cancers are Genetic
FALSE. The majority of patients who develop cancer do not have a genetic predisposition. "Genetic inheritance plays a role in approximately five to ten percent of cancers," Dr. Liggins explains. When it comes to breast cancer in particular, five to ten percent of breast cancer patients have an identified gene, although another ten to 15 percent of patients will have a familial correlation, even though the gene is not present.