Topics:
October 22, 2023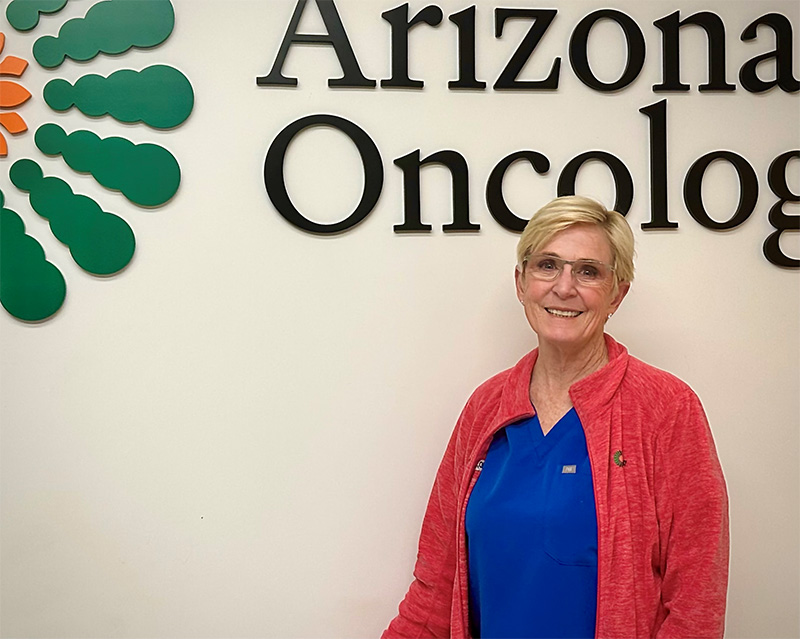 You probably already know that October is Breast Cancer Awareness Month, but did you know that approximately 1 in 8 women will develop breast cancer over the course of their lifetime? Dr. Jennifer O'Neill was one of those women.
Dr. O'Neill is a breast surgeon practicing out of Arizona Oncology's Goodyear office. She discovered her cancer during a breast self-examination despite the fact that self breast examinations weren't encouraged at the time. "Self breast examination had received very negative attention," she explains. "The argument at the time was that if a mass was felt, it would lead to unnecessary testing. I personally do not agree with this. While most masses prior to menopause are benign, the incidence of breast cancer in younger age groups is increasing."
When her cancer was confirmed, Dr. O'Neill was hopeful. "My cancer was so small that I was sure I would be an excellent candidate for breast conservation. That means I could be able to take out the cancer and keep my breast," Dr. O'Neill says. Unfortunately, further investigation ruled out the possibility of a lumpectomy: "With further imaging, more than one cancer was found, and I had to have a mastectomy."
Dr. O'Neill quickly experienced what most breast cancer patients do—the realization that breast cancer is a life-changing diagnosis. "As breast cancer patients, we need to assimilate the long term implications of our diagnosis into our new person as we move forward," Dr. O'Neill says. "It's so important for us to fully understand our particular cancer, our management options, and what to expect as we move forward. You have to prepare for that—physically, mentally, and practically."
While anyone can get breast cancer, there are risk factors at play. "The greatest risk factor for breast cancer is being female. One in eight women get breast cancer independent of risk factors," Dr. O'Neill says. The risk nearly doubles if a first degree relative (parent, sibling, or child) has breast cancer. Genetic mutations can significantly increase the risk of cancer, and other risks include dense breast tissue, having had an atypical breast biopsy on pathology, early menopause, having no children, obesity, and alcohol consumption.
That said, women should not feel guilty or responsible for their cancer, even if they have risk factors that are within their control. "Normally there are components in a cell that keep them from growing out of control," Dr. O'Neill explains. "When these are lost, the cells continue to divide, and they change away from their normal structure. This is the start of cancer cells, though it is extremely complex and there are no known specific causes. Sometimes it just happens."
What is in your control is staying on top of the recommended screenings that correspond to your risk level. Talk to your doctor about your individual risk and schedule your mammograms on time.
Dr. O'Neill urges women to perform breast self-examinations as an integral part of screening for breast cancer. Perform self-examinations monthly around your menstrual cycle, specifically looking for:
Nipple ulcerations
Skin dimpling
A palpable mass
Skin redness or thickness
Pain (uncommon)
According to the Breast Cancer Foundation, about 40% of breast cancers are detected during a self-examination.