Topics: Clinical Trials
July 6, 2020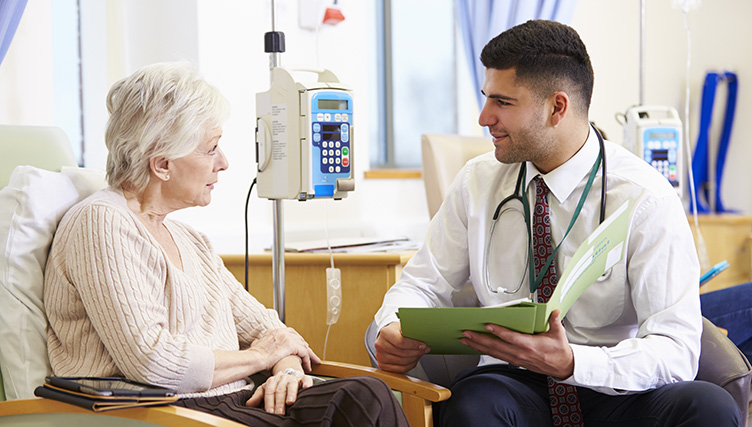 Learning you have cancer is shocking news. After you accept your cancer diagnosis, your main focus is probably, "How can I beat this?" Your oncologist will begin treating you using established, proven treatment protocols based on the specific type of cancer that was diagnosed. In some cases the most commonly effective treatments aren't working as hoped, and sometimes the cancer returns in other parts of the body. In these cases your oncologist may recommend enrolling in a cancer clinical trial. Should you do this? Find out more about cancer research being done at Arizona Oncology through The US Oncology Network.
Clinical Trials Involve Fine-Tuning FDA-Approved Cancer Treatments
Medical breakthroughs are making new cancer treatments available more often than ever before. Plus, cancer specialists are finding ways to use or combine the already-approved treatments for new uses in cancer treatment. Before these treatments can be made available to everyone they undergo a careful and extensive testing process through clinical trials. There are four primary clinical trial phases.
Phase 1 Clinical Trials: Is the treatment safe?
Research, which leads to human testing, often starts at the test tube level. For cancer, this may include treating cancer cells with the drug(s) of interest.
If a therapeutic response is observed, then the drugs are given to animals. Animal testing provides some insight into possible side effects and generates the starting dose that will be used in the first level of human testing called a Phase I clinical trial. Patients, considered for this cancer treatment, have typically exhausted standard of care options, have an advanced stage of cancer, but have few symptoms from their cancer.
Enrollment in a Phase 1 trial is typically open to patients with various cancers. The first patients are administered the lowest planned dose and observed for side effects over a period of time. If the low dose is tolerated, another group of patients are enrolled at a higher dose level and observed for side effects. Escalating doses of the drug are given to more patients until the maximum tolerated dose is determined. An analysis of the effectiveness against specific cancers is undertaken once the maximum dose is achieved. It is important to understand that not all cancers will respond to any given agent. Only five to ten percent of Phase I agents are effective enough to proceed to the next level.
Phase 2 Clinical Trials: Does the treatment work?
Phase 2 trials have more selective enrollment requirements. The inclusion criteria are based on tumor types that appeared to respond to the Phase 1 trial and often places a restriction on the number of different treatment regimens a patient previously received for their cancer. These patients usually have advanced-stage cancer and are relatively asymptomatic. Many patients are enrolled in a Phase II trial because one of the primary end-points is to prove effectiveness with acceptable side effects. If a reasonable response rate is seen at the Phase II level, the experimental drug or combination can proceed to a Phase 3 trial.
Phase 3: Is the treatment better than what's available?
Usually, promising drugs undergo FDA approval during phase 3 trials. A Phase III trial usually represents the final destination for a new drug or combination. At this level, the experimental study can be designed for patients with early-stage disease, where a cure is being sought, or more advanced stage cancers where prolongation of life is the goal. Participants are randomly assigned to standard of care chemotherapy or the experimental drug(s). The patients and physicians are blinded to the regimen the patient is receiving. A larger number of patients are enrolled, and the study could take years to complete. The experimental drug(s) can become a new standard of care if they are more effective than the current standard of care, or equivalent but less toxic.
Phase 4: What else can researchers learn about FDA-approved treatments?
In Phase 4 cancer clinical trials, the cancer therapy is tested after it has been approved for a specific use. They are used to collect information about a therapy's long-term effect on the patient's quality of life, length of life and any unexpected long-term side effects.
Phase 4 trials may also be used to try new combinations of approved therapies to determine if there are better outcomes.
Most cancer patients who participate in clinical trials in the community setting will join during phases 2 or 3 when researchers are evaluating the effectiveness of new dosages, new combinations of drugs or new uses for existing drugs. Because of this the studies are considered very safe for patients and offer options when other treatments haven't been effective.
How Do You Participate in a Cancer Research Trial?
You and your oncologist can discuss the potential option of a clinical trial when discussing treatment options. Trials may not be right for all patients. If there is a clinical trial that your doctor and you feel would be right for you, and you agree to participate (you'll never be added to a trial without your knowledge), you will be carefully monitored throughout the entire process of treatment. This may require more visits than a typical patient would have.
The research team will also contact you regularly after treatment is complete to see how effective it is in the long run.
Who Pays for the Clinical Trial?
Typically there's no extra cost to the patient for this additional care. The clinical research team will carefully go over this with you.
Many patients who are asked to participate in a clinical trial believe all their care will be paid for through the study. The reality is that only part of their care might be covered. The trial sponsor would provide additional medications as well as funding to cover additional costs considered outside the standard of care practices. Insurance companies are still required to pay for the components of a patient's care that are considered the standard of care i.e. routine provider visits, laboratory tests, radiographic imaging and prescription medication.
Questions and Concerns About Participating in a Clinical Trial
Because participating in a clinical trial is a different process, there are questions you may have. One concern may be side effects of treatment. Every patient reacts differently, and with new drug combinations or doses there may be new side effects for your oncologist to address. If you participate in a clinical trial but have a poor response, your treatment plan will be changed based on the other options that are available.
If you're considering participating in a clinical cancer trial, discuss your questions, concerns and expectations with your doctor. Some questions to ask include:
How will my side effects be managed?
What happens if I have a poor response while on the clinical trial?
What's the purpose of the study?
Is the trial testing new dosages or combinations of a drug that is already FDA-approved, or is it testing a new therapy?
How will I know if I'm qualified to participate?
What will I have to do as a participant? Is there a large time commitment on my part?
How long will the study last?
What type of side effects do you expect?
Will it cost me anything to participate?
Will the researchers tell me the results of the study?
If the treatment is effective for my cancer, can I still get it after the study?
What are the Benefits of Participating in a Clinical Trial for Cancer?
Commonly prescribed medications such as analgesics, antibiotics, and inhalers have gone through the rigorous process of clinical trial investigations. Participation in clinical trials has become an international phenomenon that improves the health of communities. Choosing to enter a clinical trial may provide the benefit of having another opportunity to treat your disease with a non-standard of care option. It is the participation of our friends, neighbors, colleagues, family and strangers that provide us with access to medications and diagnostic tests that have improved the quality of life for all.
If you're interested in learning about clinical trials appropriate for your specific diagnosis, we encourage you to contact us at Arizona Oncology. We provide Arizona cancer patients access to cutting-edge, innovative cancer clinical trials in a comfortable, convenient setting. Arizona Oncology has locations in and around Northern and Southern Arizona.
Originally published May 2017. Updated July 2020.