2/23/2016
Arizona Oncology hosts free patient and caregiver event
Arizona Oncology is hosting its inaugural FREE Cancer Survivor and Caregiver Celebration Symposium at the Desert Ridge Marriott in Phoenix. The symposium is focused on survivorship, caregivers, sex and cancer, cancer genetic testing, nutrition and cooking, and advances in new treatments in patient care.
As many as 150 participants are expected to attend the Celebration Symposium, set for 7:30am to 1:00pm, Saturday, February 27th. Attendees will enjoy a complimentary breakfast and lunch, yoga demonstrations, local community foundations, healthy eating tips and an executive chef cooking demonstration. Local experts will be available during a question and answer session.
Featured speakers include some of the foremost experts in their respective fields of oncology, nutrition and survivorship. Among them are:
Drs. Tania Cortas and Mahesh Seetharam, medical oncologists with Arizona Oncology;
Dr. Mark Hong, urologist with Affiliated Urology;
Debra Kohl, registered dietician with Arizona Oncology; and
Patient survivor, caregiver, yoga instructor and genetic counselor.
This survivorship symposium is designed by Arizona Oncology for any person who is facing cancer, who has faced cancer and any family member or caregiver who is interested in learning about tips to help live a healthy and active lifestyle during and after treatment.
Event Agenda:
7:30-8:15: Registration and Breakfast
8:15: Stretching and Yoga with Lisa Presta, RN
8:30: Welcome and discussion on survivorship with Tania Cortas, MD
9:00: Caring for the caregiver
9:45: Break
10:00: Knowing your family history, Genetic Risk Assessment and Evaluation with Stephanie Goettl, GC
10:20: Cancer Treatments and Updates with Mahesh Seetharam, MD
10:50: Sex and cancer treatment with Michele Peetz, NP
11:00: Fatigue and stress management with Tanya Price, RN
11:30: Lunch/Executive Chef to demonstrate how to prepare a healthy lunch
12:00: During lunch - Importance of eating healthy and tips with nutritionist Debra Kohl, RD
12:45: Wrap up, Q &A, vendor tables
To RSVP for the FREE symposium or for more information, please visit www.RSVPFeb27.com. For additional information about Arizona Oncology physicians and services, please visit ArizonaOncology.com or call 888.972.CURE.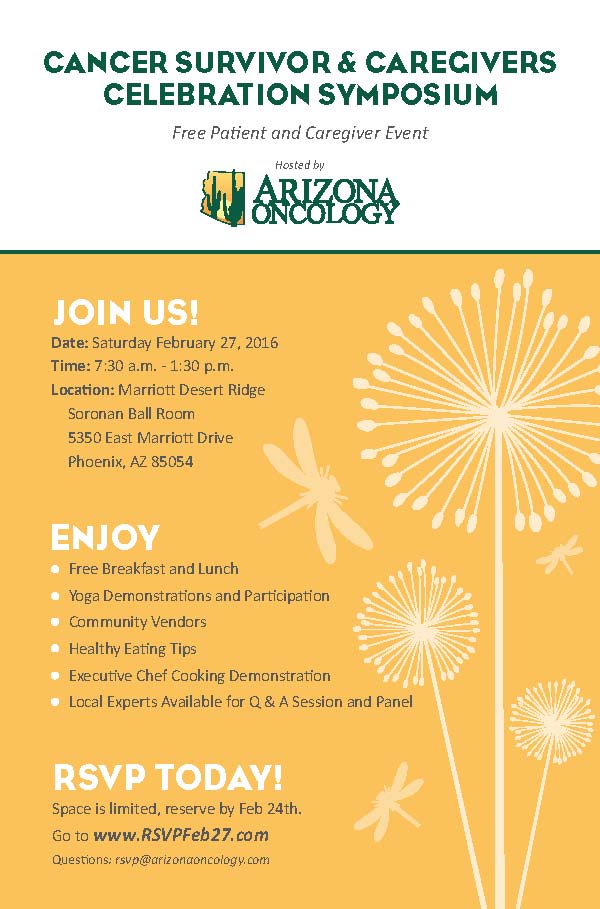 Physicians Related to This Article