August 21, 2012
February 13th, 2014
22 Months All Clear!
I'm happy to report that my 22 month post-surgery check up showed no evidence of lingering cancer cells.
I'm not happy to report that the Tucson cancer "establishment" is still not telling new chemotherapy patients about the baldness-preventing cold caps that preserved my hair and my morale. Not a single person has contacted me for information despite newspaper and TV publicity about their effectiveness with me. I recently attended a psychology conference in Anaheim with an estimated 8,000 attendees. See the attached photo for what I wore. I got 4 or 5 inquiries per day! I wear the sign whenever I go to big public gatherings.
The University of California/San Francisco has been researching the effectiveness of cold caps, but uses a different system than mine. Their caps are chilled to a mere
41 degrees F, while mine were frozen at
22 degrees BELOW zero. Other research studies I've read with less than great results have been with caps not really frozen, just chilled.
I've queried the head researcher about that. No answer as yet. The San Francisco study is supposedly preliminary to full clinical trials which FDA requires before most doctors will risk prescribing them and insurance companies will pay for them. Still, quite a few cancer centers around the U.S. are telling their patients about them and YouTube has numerous videos of doctors and happy users demonstrating their use and singing their praises.
I just read an amazing book: The Emperor of All Maladies - about the history of cancer and cancer treatments. Vigorous lobbying by dying cancer victims with nothing to lose and their advocates pressured drug companies and the FDA to release experimental drugs for compassionate before they were rigorously tested.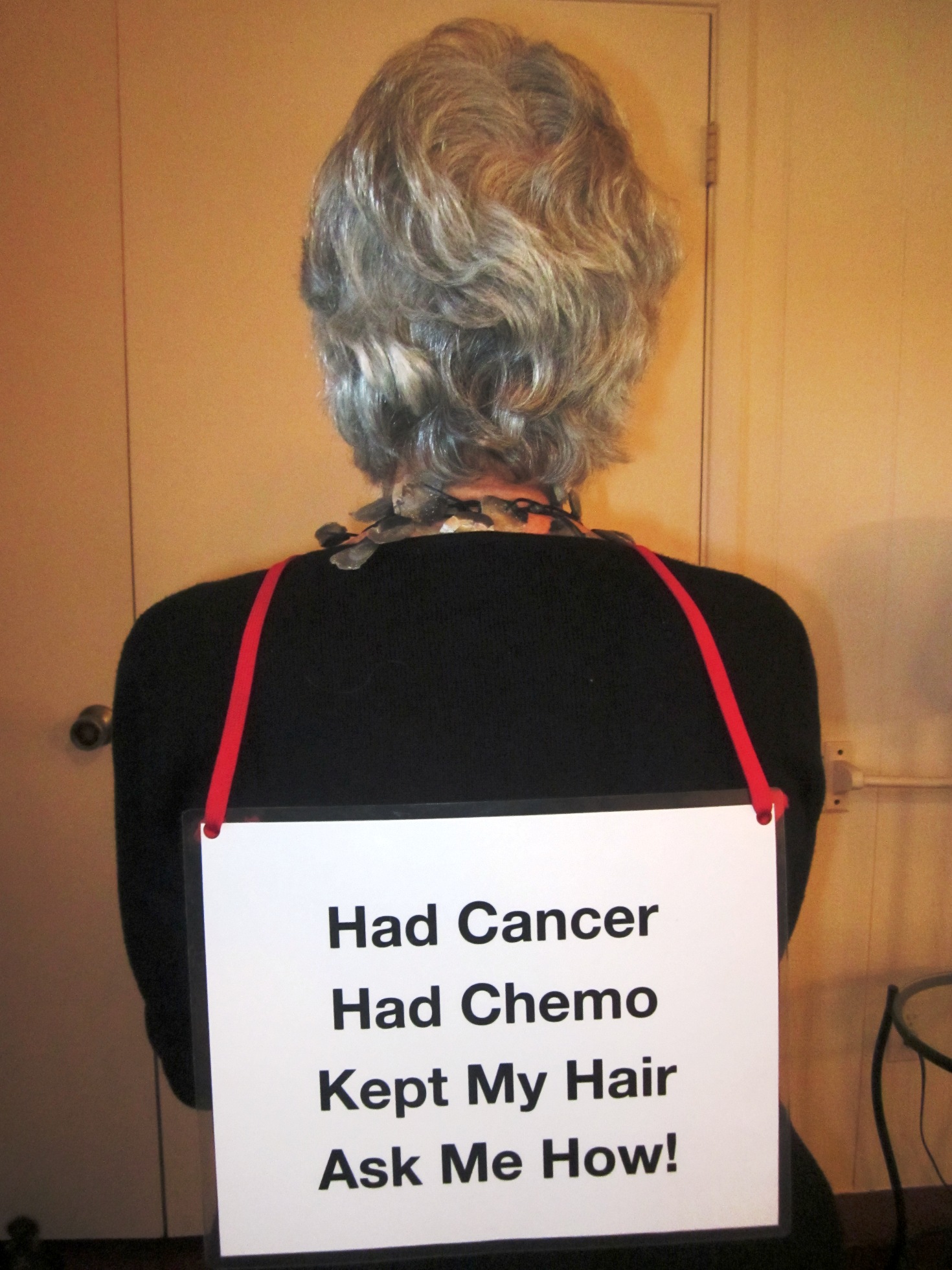 Dec. 13th, 2013
End of Phase 1, Alzheimer Videos
I'm sure you're all tired of hearing about cold caps. Bottom line: They work. I had my 6th and final chemotherapy session on Thursday, July 12. My usual "team captain" Pam was on a whitewater rafting trip in the Grand Canyon and Steffi did the whole day with me by herself. On July 25, I leave for a trip to the Galapagos and Amazon rain forest with Overseas Adventure Travel (Oattravel.com), after which I will be staying with several Servas hosts in Quito (usservas.org), then volunteering on an organic farm (fbu.org). When I return (August 21), I will start 5 weeks of 5-day a week brief external radiation treatments followed by two internal "targeted" radiation treatments. No side effects anticipated. Promising note: The University of Arizona Cancer Center has invited me to talk to their staff about cold caps.
Change of subject:

As many of us are at the age when our relatives and friends may be hit with Alzheimer's Disease or Mild Cognitive Impairment, I thought I would disseminate some of my work in this field that probably hasn't gotten beyond the academic community. I have two clients who are dealing with relatives with dementia and I prepared the following list of online resources for them that you (or people you know) may find helpful. Start out by looking at the U of AZ photo-illustrated website about the NIA-funded Alzheimer Rehab by Students program at the U of AZ (aka Elder Rehab Program) from 1996-2001. http://www.u.arizona.edu/~sarkin/elderrehab.html
There are 5 Youtube videos I have uploaded covering all treatment
modalities I used in my program. Go to Youtube.com and in the search box put the following:
Alzheimer Memory Treatment by Sarkinaz

Alzheimer Exercise Treatment by Sarkinaz

Alzheimer Supervised Volunteer Work Treatment by Sarkinaz

Alzheimer Video Therapy Part 1 by Sarkinaz

Alzheimer Video Therapy Part 2 by Sarkinaz

Feb. 16, 2012
Bummer
Just learned that I have endometrial (lining of the uterus) cancer. It all started when, during a pap smear exam, the gynecologist found something suspicious. I first had a pelvic ultrasound which revealed that the lining of the uterus was many times thicker than normal. He then did a endometrial biopsy which revealed the presence of cancer. I've had no bleeding, pain, or any other symptoms, so this is a complete shock.

I'm meeting with a Dr. Buscema of Arizona Oncology on Friday who will schedule me for a hysterectomy - probably some time next week. A good friend of mine has been his patient for the past year and she thinks he's great.
I'll be posting periodic updates, so stay tuned....